Tuesday's drop came on the back of poor performance in the US markets, as Russia's actions in Ukraine soured investment sentiment. Russia moved to recognize the separatist Ukrainian regions of Donetsk and Luhansk as independent states, then poured in tens of thousands of troops into the regions to perform what the Kremlin has dubbed as peacekeeping operations. As a result, Ukraine has declared a national emergency and urged all its citizens in Russia to leave immediately.
BRK.A latest news
The Berkshire Hathaway share price still found a way to outperform the S&P 500 index and the Dow Jones Industrial Average, which fell 1.01% to 4,304.76 and 1.42% to 33,596.61, respectively.
It outperformed the S&P 500 index in 2021, returning 33%. With an IBD Composite Rating of 90 out of 99 as of January 2022, the stock is in good stead ahead of the next earnings call scheduled for 27 February 2022.
Berkshire Hathaway Share Price Outlook
The price recently formed two successive peaks at the 324.78 price level. The decline from the recent peak met support at the 312.60 price mark, with a slight bounce. This support needs to hold to prevent price deterioration. If the bears take out the 312.60 support, this will continue the evolution of the pattern, targeting a touch with the neckline at 295.30. This move needs to degrade 304.43 and 301.87 to come to fruition.
Only a break of the neckline at 295.30 would signal completion of the double top and open the door towards downside targets at 291.77, 284.88, and 281.36 as it seeks to complete the measured move.
On the flip side, an extension of the bounce on 312.60 allows the bulls to push towards the 320.29 price mark (7 January and 2 February 2022 highs). Suppose the ascent continues above this resistance, a retest of 324.78. If there is a rejection at that level, it sets up a potential triple top that must take out all support levels mentioned previously to complete the pattern with the same price objectives. However, a break of 324.78 to the upside allows the Berkshire Hathaway share price to push towards new highs.
Berkshire Hathaway: Daily Chart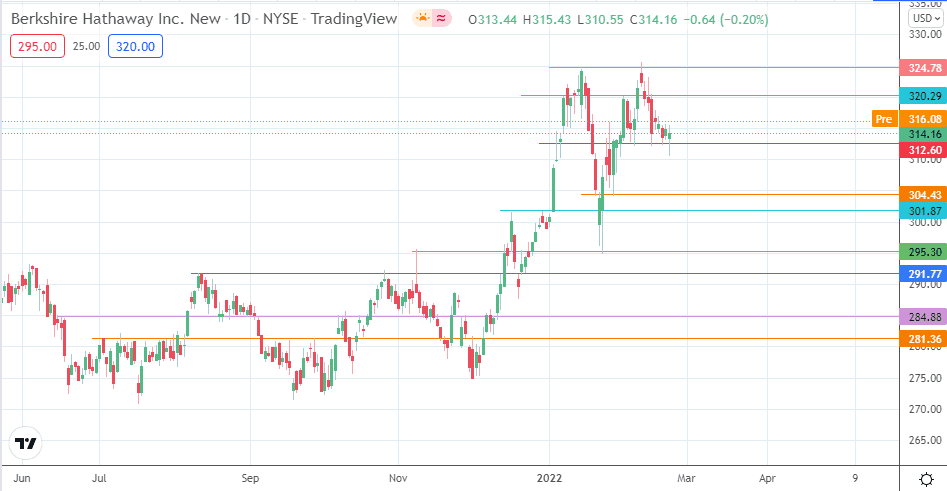 Follow Eno on Twitter.