Since the start of September 2023, Bellway shares have been showing a strong recovery. The shares of the housebuilder are extending their gains for the third consecutive day. UK homebuilders are facing headwinds due to high interest rates in the country.
The corresponding high mortgage rates resulted in decreased demand for homes in the UK. However, the recent drop in the inflation rate has caused the shares of housebuilders like Bellway to rise. The recent pause in rate hikes by the Bank of England has been taken well by the housing market. This positive effect can be seen in Bellway share price, which is up 2.19% this week and trading at its highest level since June.
Britain Abolishes Water Pollution Rule To Encourage House Building
In August 2023, Britain announced that it would remove some EU laws that discouraged water pollution. The removal of these laws will allow thousands of new houses to be built in the UK. However, the environmentalists criticized this move and stated that more construction of houses would further pollute the UK's waterways.
Bellaway Gets Rating Upgrades
The German bank Berenberg, recently reduced its price target for Bellway shares. The bank lowered its price target from £27 to £25 and retained its" hold" rating. Similarly, Jefferies also slightly increased its price target for the housebuilder's shares from 2,778p to 2,780p.
Bellway Share Price Breaks Above Range Mid
As shown below, the daily chart shows the price breaking above the middle of the 2042p-2484p range. A deeper analysis of the chart reveals the price has been respecting this range since June 2022. The shares closed at 2278p on Friday, rising 0.62% in the final trading session of the week.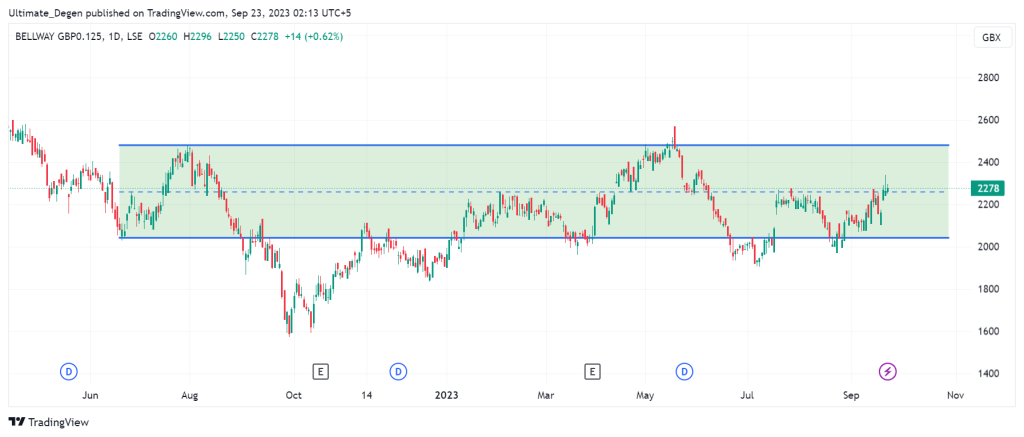 The forecast of Bellway share price will turn quite bullish if the price gains strength above the range mid of 2256p. In this case, I expect a rally towards the 2484p range high in the coming weeks. However, bears may step in if the price gets rejected from the current level.