The Barclays share price is up 1.23% on Tuesday, which looks to help the stock prevent a fourth consecutive day of losses. The stock's recent decline was triggered by a trading error in its US division, which led to the shutdown of its bond trading activities. The bank also saw a contraction in its Q1 2022 profits by 18% as expenses incurred on litigations and conduct charges impacted profitability. As a result, not even a recent interest rate hike by the Bank of England could shore up investor demand for the stock.
However, investors were buoyed this Tuesday by news of a deal the bank made to book its profits via Luxembourg, a noted tax haven. Over a decade, Barclays paid less than 1% of its profits in Luxembourg using a 2009 playbook to move profits made from a $15.2b sale of Barclays Global Investors in that country. As a result, Barclays is said to have saved almost £2bn in taxes.
Despite the renewed investor interest, the stock remains under pressure, and any rallies may be seen as potential short term opportunities. However, in the long term, the prospects for investors remain optimistic as the 12-month Barclays share price target set by institutional investors stays at 230.77p. This gives the stock a 56.68% potential upside.
Barclays Share Price Outlook
The short term outlook for Barclays' share price depends on the emerging pattern. The price action is contracting into a rising wedge. The wedge's completion depends on the bears degrading the support at 147.48 (8 March and 29 April lows), in which the lower border of the wedge intersects. This move would open the door for a measured move towards 133.78. First, however, the support level at 140.80 (7/27 April lows) must allow this move to be attained.
On the flip side, continuing the intraday bounce challenges the resistance at 151.12. If this resistance is uncapped, the price activity makes contact with the wedge's upper border. The pattern will be invalidated if this border and the 156.92 resistance (29 March high) are broken. This scenario opens the door for the bulls to aim for 161.62 (9 March high) before the 15/24 March high at 170.34 comes into the picture as an additional northbound target.
Barclays: Daily Chart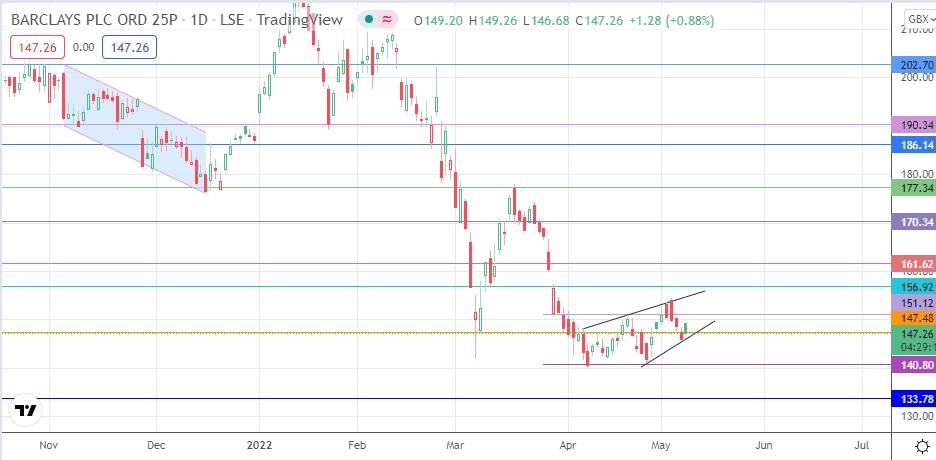 Follow Eno on Twitter.