The Barclays share price has retreated in the past few days as investors focus on the state of the economy and the decisions by the Bank of England (BOE) and the Federal Reserve. The BARC stock is trading at 155.92p, the lowest it has been since May 23rd of this year. However, the shares are still about 27% below the YTD high, meaning the stock is in a bear market.
Barclays investment banking troubles
Barclays is facing some key challenges that could affect its earnings. On the one hand, the company is set to benefit as the BOE and Fed decided to hike interest rates. But, on the other hand, with interest rates surging, analysts believe the bank will see higher interest income in the coming months. This is notable since Barclays has over £1.3 trillion in assets, which it is putting to work.
However, the rising interest rates risk pushing key markets like the UK and US into a recession. Some analysts believe that this recession is already here. As a result, the bank is expected to see lower income as inflation continues rising.
Meanwhile, Barclays is also seeing major headwinds in its investment banking division. This year has been one of the worst in investment banking history. According to WSJ, the volume of mergers and acquisitions in the US has dropped by 29% to $945 billion. In Canada, it has tumbled by 55%. Globally, the volume of deals has crashed by 21% to $2.1 trillion.
Barclays has advised 111 deals worth over $305.5 billion compared to $382 billion in 2021. The same is true with equity capital markets, where the volume has tumbled to just $240 billion while debt market has declined to $3.4 trillion. As a result, Barclays' investment banking revenue has dropped from $2.2 billion to $1.2 billion.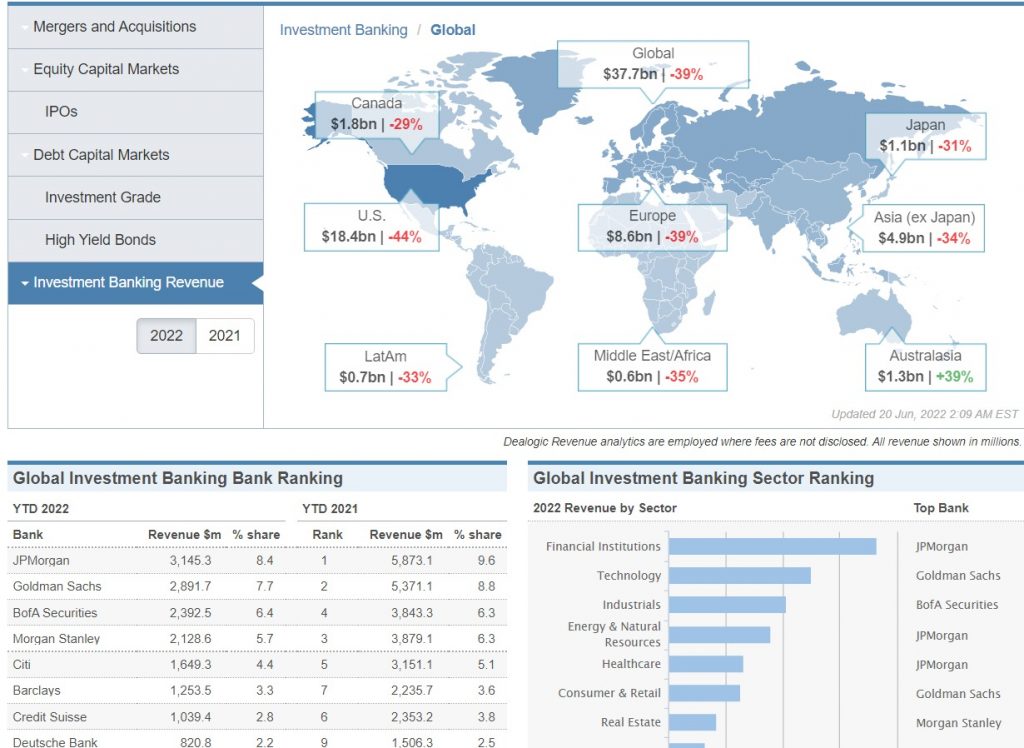 Therefore, Barclays share price will likely struggle as its key segments come under pressure. The only business that will offset this will be its FICC business, which will benefit from the rising market volatility.
Barclays share price forecast
The hourly chart shows that the BARC share price has been in a downward trend in the past few weeks. It has fallen from a high of 173.48p to the current 155p. The stock has moved below the 25-period and 50-period moving averages while the MACD is below the neutral point. It has also moved slightly below the important support level at 157.24p, the highest point on May 18th.
The short-term outlook for the stock is bearish, with the next key support being at 154.48p, which was the highest point on May 5th. However, a move above the resistance at 158p will invalidate the bearish view.