Barclays has been dead money for investors in the past decade. Unlike its large-cap American peers, Barclays share price has collapsed by 51% in the past 10 years. The stock has fallen by more than 25% in the past 12 months, giving it a market valuation of over $30 billion.
Barclays is incredibly cheap vs peers
Barclays' underperformance has made it to be a bargain compared to several of its European peers. For example, the company trades at a PE multiple of 4.9x. In contrast, companies like Lloyds, Standard Chartered, NatWest, and HSBC have a multiple of over 7.8x. The banking industry has an average PE multiple of 9.4x.
A DCF valuation calculation also confirms that Barclays is significantly undervalued. As shown below, the fair valuation of the stock is 255p, compared to the current 150p. This calculation looks at the company's current cash flows and estimates its net present value.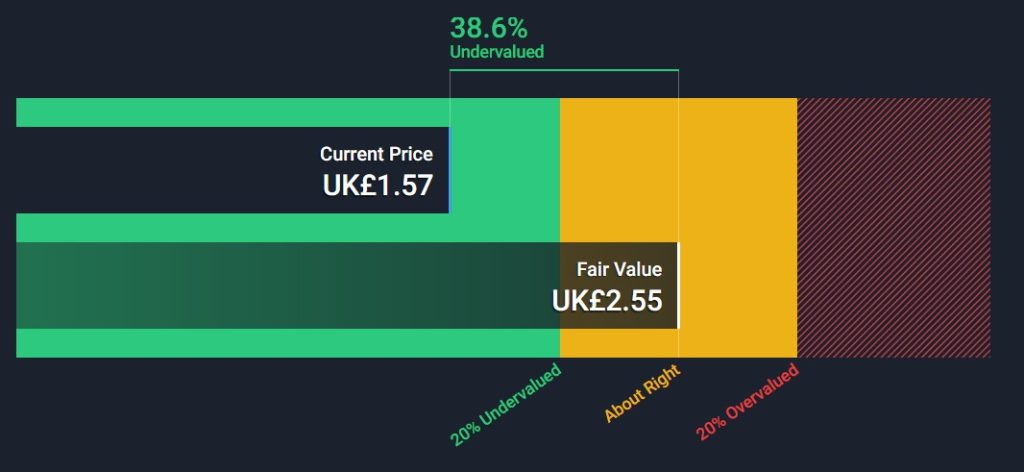 Analysts agree that Barclays share price is significantly undervalued. In recent updates, analysts at Deutsche Bank boosted their call for Barclays. They expect that the shares will rise to 230p. Those at Credit Suisse and Goldman Sachs expect that it will soar to 250p while Berenberg are more enthusiastic with its forecast of 260p.
Barclays could be a bargain
As demonstrated above, Barclays share price has become a bargain compared to peers. I think the company has room to close its gap with some of its competitors in the long term. For one, its diversification is a strength. Unlink banks like NatWest and Lloyds, Barclays's makes money in both its lending and investment banking business.
Its UK business is benefiting from high-interest rates. The firm expects that high rates will add about 2 billion pounds in income in the next two years. Similarly, it is growing its market share in US consumer cards business, where it faces significant competition from the likes of Citi and JP Morgan.
Some of this growth comes from its recent buyout of Gap's credit card business. Barclays is also one of the best-known brands in the trading business. These catalysts will help to offset its decline in the investment banking business.
Will Barclay's share price rise?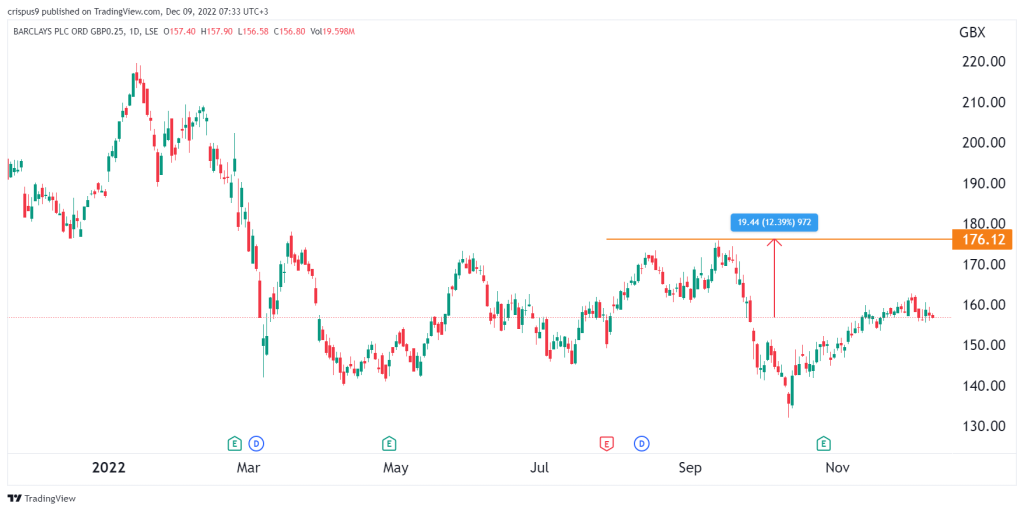 I expect that the Barclays stock price will do well in 2023 despite the rising recession risks. This growth will be supported by the bank's American business, which generates over 7 billion in revenue. Its UK business will also continue doing well.
Further, the rising interest rates will likely lead to more dividend payouts to investors. If this happens, I suspect that the stock will rise to about 176p, implying a 13% upside. As such, while my outlook for the stock is bullish, investors can find better opportunities away from European banks.