Aviva (LON: AV) share price spiked abruptly towards 404p on Thursday before giving in to the selling pressure. The price is currently retesting the 404p level, which was the July high. The shares of the British Insurer are currently sitting at 402p, up 0.22% till press time.
UK stocks experienced a spike after the Bank of England announced a pause in interest rate hikes. However, the bears came into play and pushed the stocks back to their pre-announcement level. The FTSE 100 index lost 26 points today and is stood at 7,704 points till press time.
Aviva Share Price Forecast
The chart for LON: AV shows the price gaining momentum after breaking above the downward trendline. This trendline has been respected by the stock since the start of this year. The recent rebound comes from the 367p-384p key demand zone that I have mentioned multiple times in my previous analysis.
The latest Aviva share price forecast reveals strong chances for the price to retest the 435p, which is the next major resistance level. However, this move will require the price to break above the July high of 404p. I expect the bears to come into play if the price fails to break above 404p.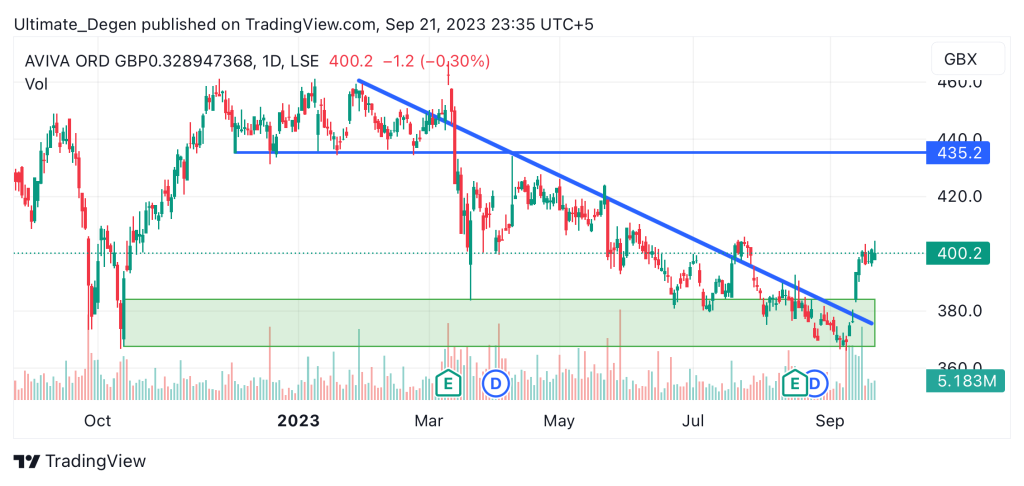 Aviva Sells Stake In Singlife
Aviva made headlines after it exited from its Singlife joint venture. The British insurer is selling its 25.9% stake in Singapore Life Holdings and two debt instruments which both amount to $1 billion. This transaction is expected to be completed in the last quarter of 2023.
In other news, Deutsche Bank announced an upgrade on their price target for Aviva. The German bank increased the price target from £4.75 to £4.9 and kept their "buy" rating for the shares of the British insurer. Aviva share price currently sit 12.4% below its yearly high of 461.7p.