The Aviva share price is trading lower this Friday and looks set for a 3rd consecutive losing day as the stock is down 0.64% this Friday. Following a solid start to the week, the Aviva share price has lost steam but still looks on course to end the week higher.
The price moves as the UK's leading savings, retirements and insurance business closed out a $1.3 billion share buyback program, repurchasing shares at an average of 4.08 pounds per share. The program was initially announced in August 2021. It was later expanded and extended until the end of 2021.
The insurer has also promised to return a further £3.75bn to its shareholders. This figure will include the amount spent on the share buyback program.
Earlier in March, the company had launched a capital return program where shareholders received one new B share for every Aviva share they already owned. It has also promised to increase its dividend for 2021 to 0.2205 pounds per share, representing a 5% increase. Dividend projections for 2022 stand at 0.315 pounds per share, while 0.33 pounds per share is the dividend the company aims to pay out to shareholders in 2023.
Aviva Share Price Outlook
The 3-day slump is a profit-taking correction that came off the 460.5 resistance. This puts the Aviva share price on course for a test of support at 438.5. If this support breaks down, 422.5 (24 January and 21 March low) and 408.2 (31 December 2021 and 24 February low) are potential targets to the south.
On the flip side, the bulls need a price bounce that propels the price activity beyond 460.5. This price move initially targets the 8 December 2014/23 January 2017 lows at 467.9. Above this level, the 9 January 2017/1 October 2018 highs at 489.9 also serve as an additional target to the north.
Aviva: Daily Chart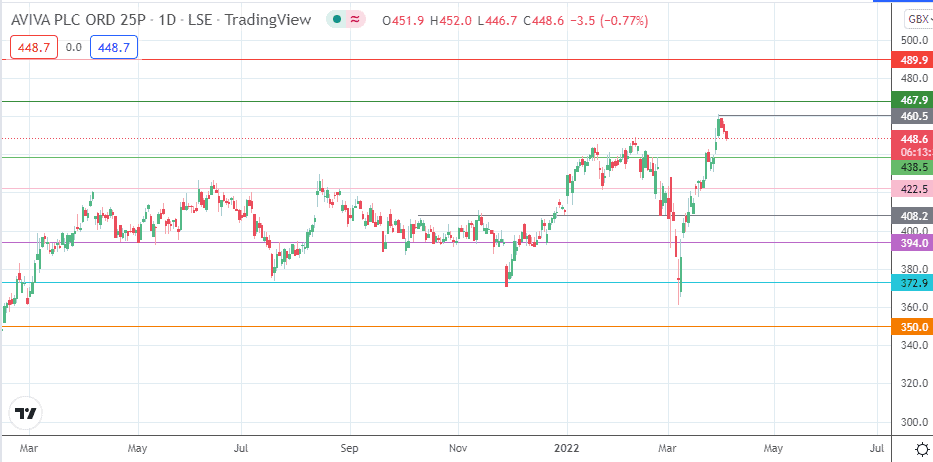 Follow Eno on Twitter.