After a transient recovery, the Aviva share price is back in red territory as trading resumed on a negative note this Thursday. The Aviva share is just coming off a week where it saw steep selling, losing 4.25% last week. This week, the stock is already down 3.59% as the company reels from a chaotic annual general meeting where shareholders allegedly heckled CEO Amanda Blanc with sexist remarks. 
The London Financial Times covered the meeting in which Blanc was reportedly told she was "not the man for the job." Aviva Chair George Culmer condemned the comments, describing them as inappropriate. However, Amanda Blanc has come out to say that she is used to remarks of this nature. These have come up regularly in her 30-year career in financial services, which seems to confirm a culture of misogyny in the UK financial services industry.
A Bloomberg investigation conducted in 2019 uncovered rampant endemic harassment in the UK insurance market, with inappropriate comments and unwanted physical contact said to be the order of the day. After opening the day with a bearish gap, the Aviva share price is down 2.55%.
Aviva Share Price Outlook
The intraday decline in the stock has found support at the 396.7 price mark (9 July 2021 and 9 March 2022 lows). However, the intraday bounce needs follow-up action from the bulls. A push towards the 408.2 resistance barrier (12 November 2021 and 12 March 2022 highs) may be on the cards if this is achieved.
A break above the 408.2 resistance level allows the bulls to push towards the 422.5 barriers where we see previous lows of 24 January and 7 April 2022. This move depends on the bulls uncapping the resistance formed by the 11 March and 9 May highs at 417.3. Above this level, additional resistance barriers as seen at 438.5 (21 February and 26 April highs) and at 447.1, which is the site of previous highs of 9 February and 21 April. Potential pitstops may be at the 430.0 psychological price mark (7-12 April highs).
On the flip side, a lack of bullish momentum makes the support level at 396.71 vulnerable. If this support level breaks down, the bears will beat a path to the 391.5 support mark (13 December 2021 low). Additional support levels are seen at the 386.4 (3 August 2021 and 4 March 2022 lows) and 382.0. The 372.9 pivot only becomes available if there is extensive price deterioration.
Aviva: Daily Chart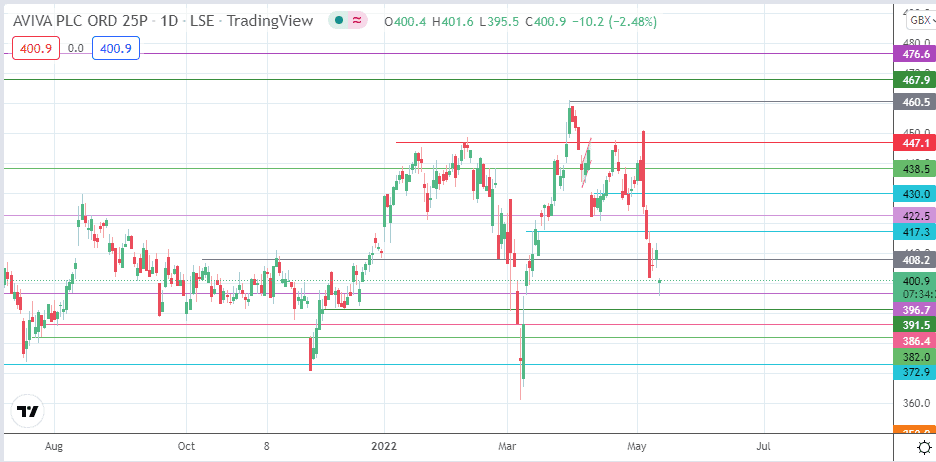 Follow Eno on Twitter.