Despite being significantly down from August 2021 ATH, Audius price prediction is still bullish. Currently, the Audius price is nearly 85% down from its all-time high of $4.95 that was made in May 2021. The price dipped to $0.657 on 24th February as the whole crypto market tumbled along with traditional markets. This across-the-board blood bath was mainly due to the ongoing dispute between Russia and Ukraine.
What is Audius Crypto?
Before moving on to Audius price prediction let's have a look at its fundamentals. Audius is a decentralized audio streaming platform. In the traditional music industry, very little revenue is shared with the artists as the major chunk goes to the middlemen. These middlemen include Manager, Concert Agent, Concert Promoters, Record Labels, Platforms Costs, etc. Audius coin solves this exact problem by providing the artists a decentralized way to publish their content.
The platform also has several decentralized social media features which let the fans interact with artists. The audio coin is the native asset of the Audius platform and it is an ERC-20 token on Ethereum. At the time of writing Audio coin is trading at $0.77.
Audius Price Prediction
After a brutal start of the year for cryptocurrencies, Audius crypto is also facing intense sell pressure. Audius crypto is currently 85% down from its May 2021 all-time high of $4.95. The price dipped to $0.657 on the news of turbulence in Eastern Europe. However, Audius price immediately bounced off and is now trading at $0.77 which is 20% up from the lows. This strong bounce signifies that there is strong support at the $0.60-$0.65 region. We can generate our Audius price prediction considering bullish and bearish scenarios for rest of the year.
If the current bounce continues then the Audio token needs to regain the mammoth $1.95 region to aim for further upside. This also coincided with 0.38 Fib level drawn from August highs of $4.05 to the recent lows of $0.657. If the Audio price regains in this region then bulls can target the $2.75-2.86 region before the end of the year. This region is the fib golden pocket from the same retracement. In the case of another lower low than $0.657, this Audius price prediction will be out of the window. Such a scenario could take the price down to $0.35 in short term.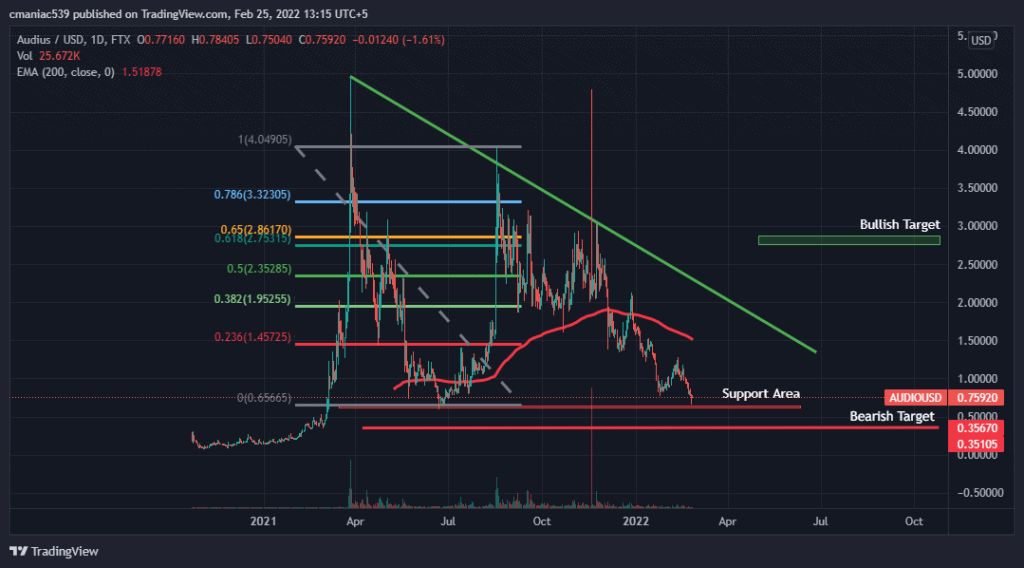 Audio price pumped in August 2021 after the announcement of a partnership with Tik Tok. Nevertheless, the pump was not sustainable and the price faced rejection from $4.05. According to the latest Audius news today, Audius is bridging its Audio token from its native blockchain to Solana creating its wrapped version.