The Aterian stock price looks set to start the week on a lower footing, following Friday's steep 12.37% decline. This decline follows the drop in the risk-sensitive Nasdaq index, which fell heavily on the same day after the Non-farm Payrolls report that opened the door for new bets on additional rate hikes by the Fed.
The decline in the Aterian stock price comes after the stock had a remarkable April in which it tripled its share price. However, demand for the stock dried up at the $7 mark, leading to the selloff, which has taken it back to the January 2022 lows.
The recovery in Aterian followed a narrowing of its 4th quarter net loss and an increase in revenue from $41.5 million a year earlier to $63.3 million for the quarter ended 31 December. This revenue intake surpassed analysts' estimates, which had come in at $60.4m. In addition, the company's loss per share of $0.11 also beat the market estimates of $0.27 per share and remarkably improved from the $2.12 loss per share posted a year earlier.
Technically speaking, the recent decline in the Aterian stock price follows progressively lower highs, which indicates waning buying pressure. Currently, five Wall Street analysts are projecting a $5.00 median price for Aterian Inc. with a high band of $15.00 and a low band of $2.50. This gives the stock a 15.7% upside potential from the median price.
Aterian Stock Price Prediction
Over the past three sessions, the stock's decline has put it on course to challenge the support at 4.08. If the bears succeed in degrading this support level, 3.15 becomes the next downside target. After that, 2.74 and 2.14 are additional targets for the bears if further price deterioration occurs. Finally, 1.60 is multi-year support last seen on 2 April 2020, and this pivot becomes available once the 2.14 support level breaks down.
On the flip side, a bounce on 4.18 enables the bulls to seek the 2 May high at 5.75 as the initial upside target. If the bulls uncap this resistance, the 6.94 barrier (28 October 2021/15 November 2021 highs) becomes the next target. After that, additional targets to the upside are seen at the 8.11 price mark (9 November 2021 high) and at 8.94 (30 August 2021 and 14 October 2021 highs).
Aterian: Daily Chart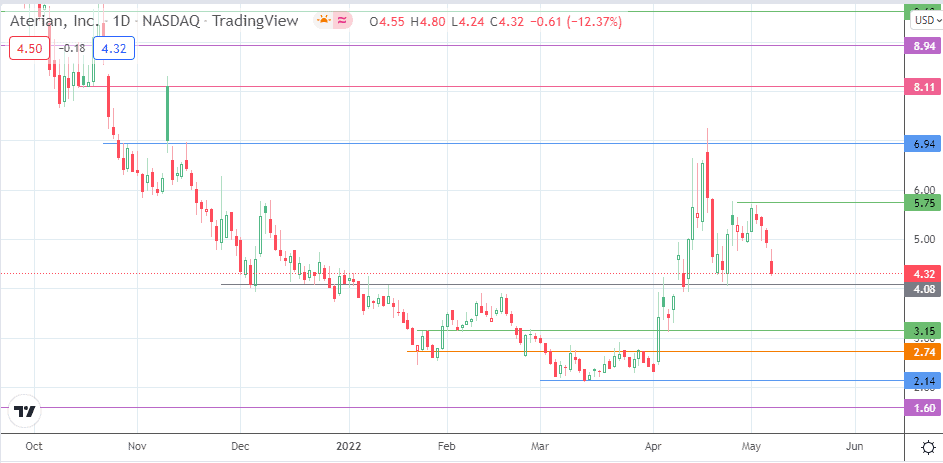 Follow Eno on Twitter.