On Friday, a further decline heightened bearish Arweave price predictions, even as the crypto market witnessed another slump. Arweave has taken an extensive hit as the Solana network, with whom it shares a cross-chain bridge (SOLAR bridge), took what is suspected to be two DDoS attacks this week.
Despite a rebuttal from the Solana team, the network congestion that occurred on the Solana blockchain added more fuel to the rumours that the network was attacked. The resultant drop in both Solana and Arweave tokens reverses fortunes from early November when both tokens rose simultaneously to touch off new all-time highs.
Arweave is still in the early stages of implementation of its entire ecosystem, which includes a wallet embedded in a web browser (AR Connect and WeaveID), NFTs/gaming, content creation/publishing, social networks, dev tooling and its file storage business (ArGO, ArDrive, etc). Long-term price predictions will absorb the fundamentals of the potentials that lie in these projects, but the AR/USDT pair will remain vulnerable to general market conditions in the near term.
Arweave Price Prediction
The double top pattern on the daily chart points towards a further extension of the price decline. However, the bounce on the 48.89 support level has truncated the measured move. This support level must give way for the bears to attain the completion point of the measured move at 42.40. A further drop below this area targets the 22 September/13 December 2021 lows at 35.86.
Conversely, if the bulls add momentum to the bounce, 52.30 will come under pressure. If the bulls uncap this resistance barrier, 57.17 comes into the picture as the next upside target. 67.15 (site of double tops) and 72.69 will be in line as new targets if the bulls can extend the advance beyond 57.17, while the attainment of 80.22 signals a change in sentiment to the bullish end of the spectrum.
AR/USDT: Daily Chart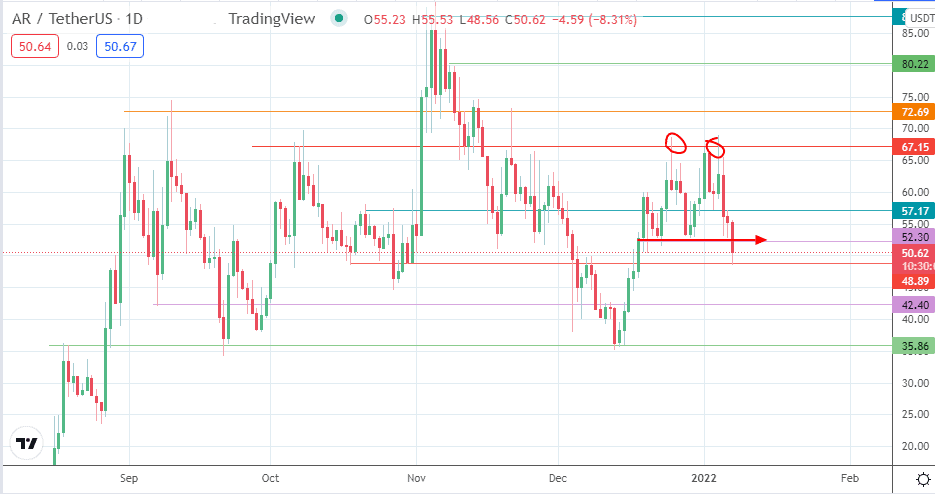 Follow Eno on Twitter.