In a dramatic turn of events, Bitcoin mining stocks spiked at the start of this week as the news of the spot ETF approval broke out. Argo Blockchain (LON: ARB) share price also surged to GBX 9 for the first time since September. However, the bulls got rekt once the news of the ETF approval turned out to be false.
Despite a volatile price action in the first trading session of the week, Argo shares still showed a minor increase on Tuesday. At the time of press, the UK-listed BTC miner's stock was up 0.84%. This comes as a surprise as the BTC price was down 0.44% for the day.
The September operational update of the Argo Blockchain PLC is out now. The company mined 136 BTC in the month at an average of 4.5 BTC (or BTC equivalent) per day. The overall mining revenue came 23% higher on a MoM basis and remained at $3.59 million.
This is a major improvement for the miner as the August report showed a 24% reduction in BTC production. However, Argo Blockchain stock price hasn't shown any major move despite an uptick in Bitcoin production. The latest report also revealed that the company currently holds 32 Bitcoin.
LON: ARB Technical Outlook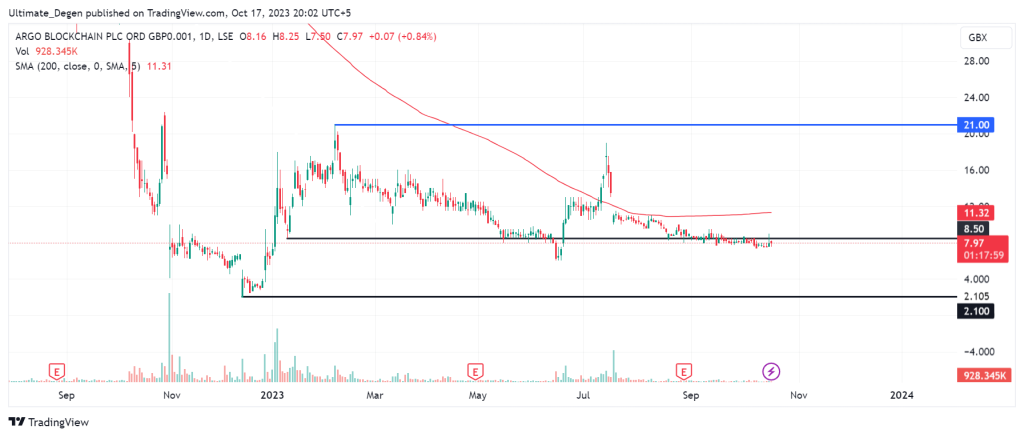 Argo Blockchain Share Price Forecast
Just like other BTC mining stocks, LON: ARB also shows a strong correlation to the Bitcoin price action. Due to the sideways price action of Bitcoin since August, Argo stock has also exhibited a similar price action. The shares are currently trading below the $8.5 support level which is a sign of weakness.
Argo Blockchain share price prediction will flip bullish if the bulls reclaim the $8.5 support. This will give traders enough confidence to target the $11.5 to $13 price gap which was formed in July 2023. For a longer term outlook a sudden approval of spot Bitcoin ETF and next year's halving event may act as catalysts.