ApeMax price remains $0.00022838 in stage 1 of its presale. This is almost a 5% increase from two weeks ago when I last covered the topic. ApeMax has become a matter of debate among memecoin enthusiasts. In this article, we will be taking a deep dive into the project to determine if it is even legit.
The altcoin market appears to be in a slump as the BTC price is stuck in a very tight range. The sideways price action of Bitcoin has bored most of the traders who are envying this year's gains in the stock market. This suggests that the market conditions are not ideal for a new memecoin project like ApeMax to raise capital.
ApeMax Raises $732,427 In Its Presale
According to the latest ApeMax news, the project has successfully raised $732,427 during stage 1 of its presale. The presale price is increased after every 24 hours. The presale participants are eagerly waiting for the DEX listing anticipating exponential returns.
While it is too soon to predict the ApeMAX price after its presale, there are some critical things that you must know as a presale buyer. My biggest concern is that this memecoin is launching at a later stage of the memecoin season, which began 3 months ago.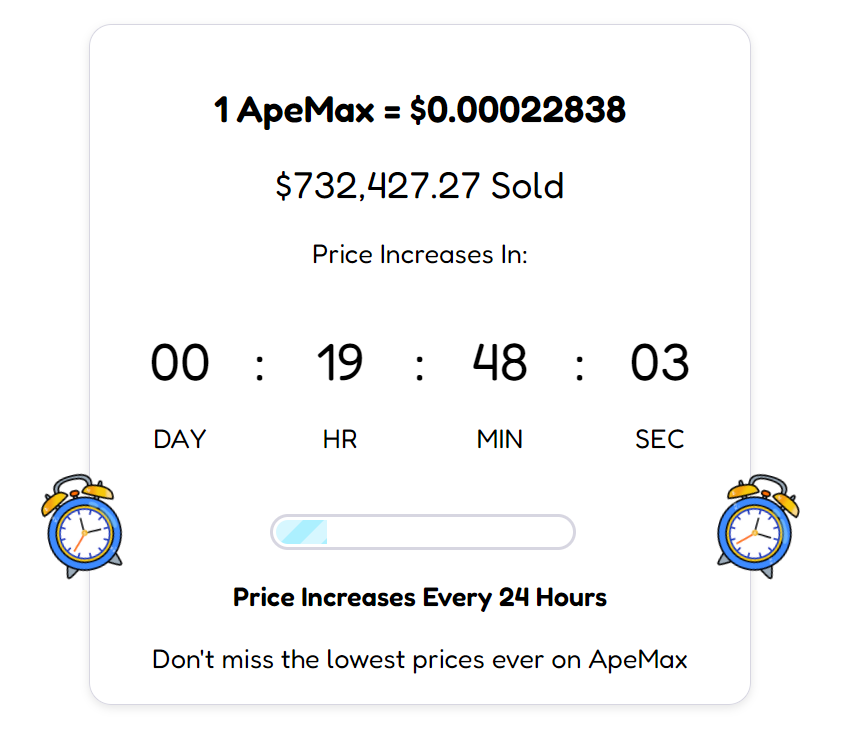 ApeMAX Price Prediction Amid Multiple Red Flags
A deep dive into the token contract of ApeMax reveals some concerning things. According to Toen Sniffer, the project's code contains a proxy contract that can change its functionality. Another concerning thing is that the contract ownership hasn't been renounced. These factors are not encouraging for the presale investors.
Due to these issues, my ApeMax price prediction is not bullish at all. Multiple crypto websites are actively promoting the project by writing sponsored articles. These articles casually mention ApeMax with other major cryptocurrencies to attract more and more buyers for the presale.
While I might not be investing in ApeMax, there are still many other crypto projects with 1000x potential. I often mention these projects on my Twitter, where you are welcome to follow me.