ApeMax price has become a matter of debate among crypto enthusiasts as the project nears its launch. ApeMax presale has been live since May 2023, and it is currently in its final stages. While the investors expect exponential returns from the new memecoin, there are ignoring many red flags.
Altcoins are having another bad day as the BTC price remains stuck at the $29,100 level. The sideways price action of the pioneering cryptocurrency has increased the selling pressure in altcoins. Nevertheless, the memecoin community remains active as new coins like ApeMAX are getting launched every day.
ApeMax Raises $638,140
According to the official website of ApeMax, the project has successfully raised $638,140. This shows a strong community interest in the memecoin, whose launch date is still more than a month away. ApeMax price increases every 24 hrs, and this will continue till the presale ends.
As per the reports, ApeCoin presale is expected to end on August 15. According to Coinsniper, the launch date for the project is September 30. As ApeMax token is based on Binance Smart Chain (BSC), which suggests that it could be listed on PancakeSwap.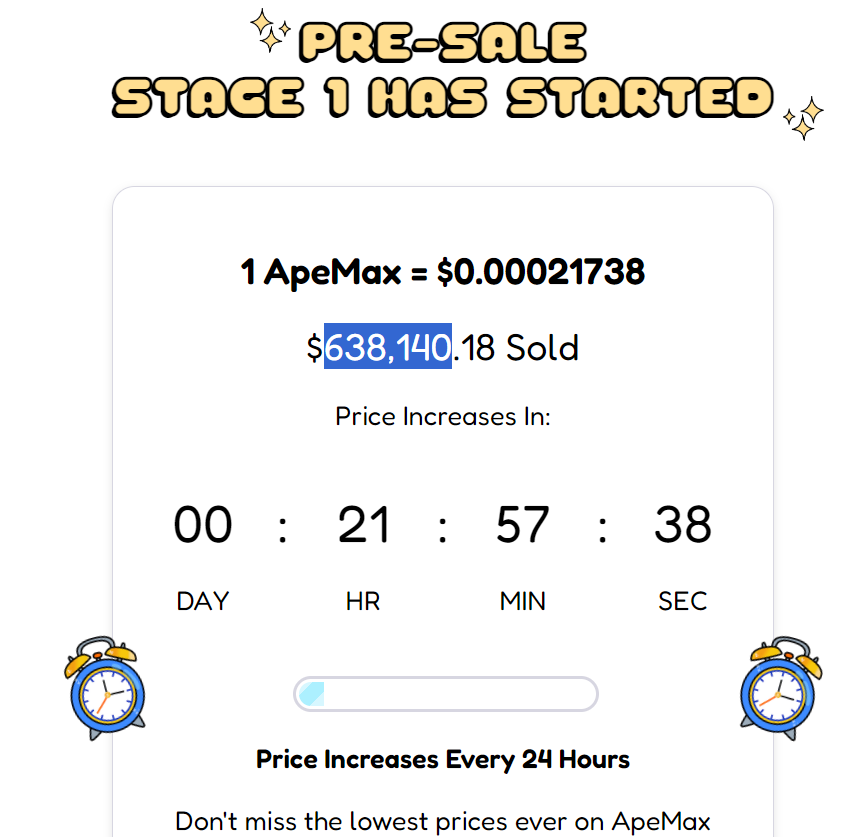 ApeMax Price Prediction After Launch
Currently, ApeMax is available at a price of $0.000217 in its presale. The price increases after every 24 hours. Since ApeMax has a maximum supply of 1 trillion coins, it is unlikely to hit dubious price targets like $1. The exact Ape coin price prediction will depend on the community's interest after its launch.
Before investing in ApeMax coin, you must know that the memecoin season is at its final stages. The launch of hundreds of new coins has diluted the industry. Another thing to consider is the fact that why would anyone buy ApeMax after its launch when they can buy it is presale much cheaper.
In the meantime, I'll keep sharing updated analysis on memecoins as well as the upcoming 1000x gems on Twitter, where you are welcome to follow me.