Apecoin price has immensely underperformed in 2023. Most cryptocurrencies have made a strong comeback this year after remaining in a slump for the most part of 2022. However, cryptocurrency APE has failed to show any substantial returns. In fact, the coin tagged its fresh all-time lows in July 2023.
What Is Apecoin?
Apecoin was launched by Ape Foundation in March 2022. It was launched as the native asset of APE DAO, which develops and runs the project via community proposals. A large amount of APE crypto was distributed among the holders of Bored Ape Yacht Club NFTs.
While the creator of Bored Ape NFTs, Yuga Labs, has tried to keep it distant from the APE, the latter still has the footprints of the former all over itself. Due to this reason, APE surged as Yuga Labs announced the development of its Otherside metaverse.
When Did Apecoin Come Out?
As described earlier, Apecoin was launched at the final stages of the bull market in March 2022. It was announced that the Bored Ape Yacht Club members would have their own cryptocurrency. Holders of different NFTs in the Yuga Labs ecosystem claimed their coins for free.
Who owns Apecoin?
As mentioned above, Apecoin was claimable by all the holders of Bored Ape and Mutant Ape Nfts. This group has been the largest holder of APE. The development of the APE DAO is controlled by the APE Foundation, which is a non-profit organization.
Apecoin Latest News
According to the most recent Apecoin news, the project has released two transparency reports. This is the only second time that the team has released such reports. The inaugural report was published on November 2022. The latest reports will cover the time periods of December 2022 and Q1 2023.
Apecoin Chart
Shortly after its launch, APE coin was launched on almost all the major crypto exchanges and immediately became a hit. However, the coin couldn't stand firm in the following bear market amid the collapse of Terra LUNA, Celsius, and FTX. As a result, the coin is now trading more than 92% below its 2022 all-time high.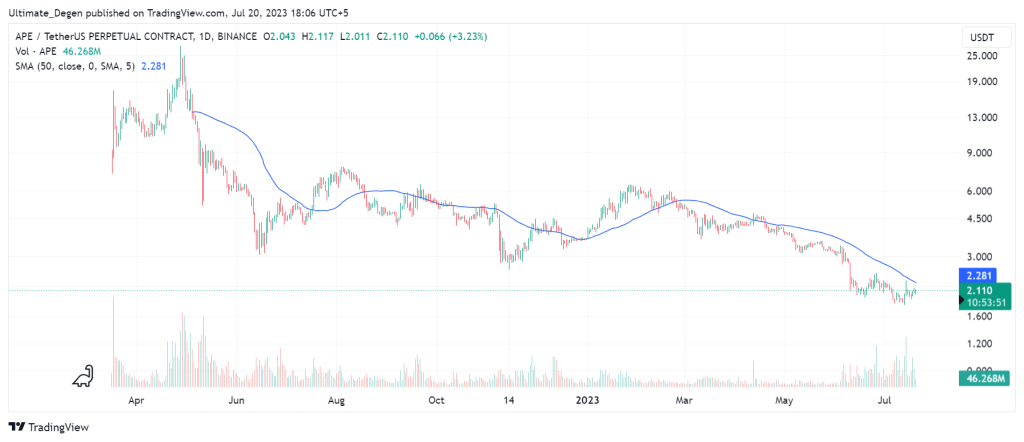 Apecoin Price Prediction 2023
In 2023, the native asset of APE DAO fell to its all-time low of $1.80. Currently, the coin is in the midst of a recovery. While the buying pressure has been increasing for the past few weeks, a proper bullish reversal still appears to be far away. The first major level that the bulls must reclaim soon as a show of strength is the $2.13 level.
For the Apecoin price prediciton 2023 to flip bullish, the bulls need to break above $2.52 level. this will be a proper bullish reversal signal and might trigger an uptrend in APE price.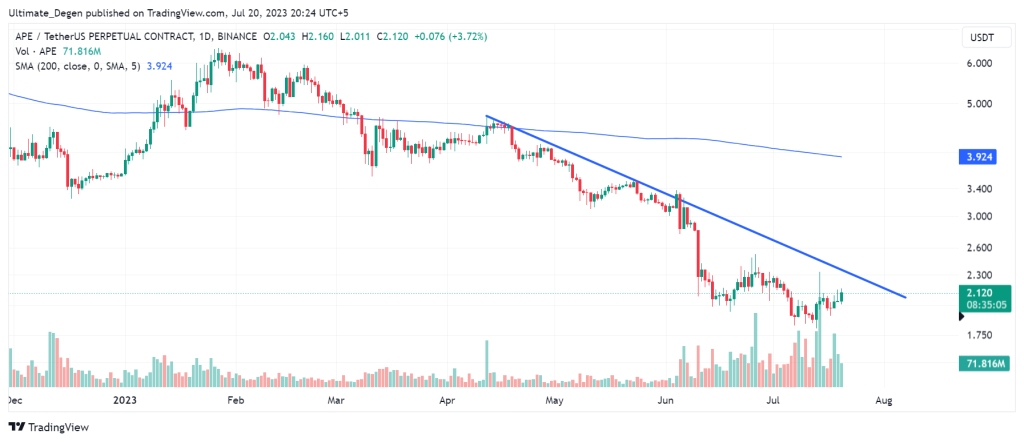 Apecoin Price Prediction 2025
The price prediction of APE in 2025 depends on the crypto market sentiment by that time. Most analysts are anticipating another bull run in 2024 due to BTC halving. If such a bull market occurs even then it won't be easy for Apecoin to make a new all-tim high by 2025. However, if Yuga Labs Otherside metaverse becomes a hit and Apecoin gets integrated into it then it's gonna go far beyond a new all-time high.
Apecoin Price Prediction 2030
By 2030 the world could be a totally different place. Before looking for Apecoin price prediction 2030 you must know one thing. There are very few cryptocurrencies that have stood the test of time. Many cryptocurrencies which were very popular and hyped in 2017 couldn't attract any buyers in 2021's bullrun.
This is because most of these projects stopped development. Therefore, it might not be a great idea to invest in an experiment like ApeCoin with a very longterm perspective.
Where To Buy Apecoin?
APE and other similar altcoins can be easily bought on any major cryptocurrency exchange. The coin is listed on almost all the top exchanges of the world including Coinbase, Binance, Kucoin and ByBit. It is also available on many decentralized exchanges like Uniswap, Sushiswap etc.
How High Can Apecoin Go?
If the concept of APE DAO succeeds and the Yuga Labs Otherside metaverse integrates APE, I don't see any reason why it can't hit a new all-time high. However, that's a big if, and a lot depends on the development team of the project.
How Many Apecoin Coins Are There?
According to crypto data tracking site Coingecko, there are currently 368.5 million APE coins in circulation. At current price, this translates into a market capitalization of more than $775 million. This makes it the 58th most valuable digital asset in the world.
How To Trade Apecoin?
You can trade APE crypto and any other cryptocurrency by signing up on a reliable digital assets exchange. Binacne, Kucoin, Coinbase, Kraken and ByBit are some of the most popular exchanges. You can buy, sell and hold crypto on these exchanges and also withdraw it to your blockhcain wallet.
Conclusion
After a long slump in 2022, altcoins have made a strong comeback in 2023. While it is one of the best times to start accumulating cryptocurrencies, it is very important to chose the right ones. While ApeCoin has ties to one of the biggest NFT brands in the world, it still has to gain a lot of adoption to reach another all-time high.