Before yesterday's price surge of 22 per cent, Apecoin had been in a four-day consecutive bearish run that had seen its value dropping by 45 per cent. However, yesterday's surge offered a slight glimmer of hope for Apecoin, which, at the time, was trading against the industry's strong bearish trend.
However, in today's trading session, Apecoin is looking likely to continue with the strong and aggressive bearish trend that has dominated the markets for the past week. Today started with a strong push to the downside, resulting in prices dropping by almost 9 per cent. Although intraday trading in the past few hours has cut the losses made to the current 4 per cent drop, there are signs in the wider cryptocurrency industry that points to a continued drop in Apecoin price.
The collapse of the FTX exchange is also expected to play a part in the next few trading sessions on the trend of Apecoin. Due to its significant correlation with the industry, the continued problems mean a bearish trend in the industry which will likely drag the Apecoin price down.
Following today's resumption of the bearish trend, I expect Apecoin prices to continue dropping for the next few trading sessions. There is a high likelihood that we will see the Apecoin price hitting and trading below the recent monthly price low of $2.79 in the coming sessions.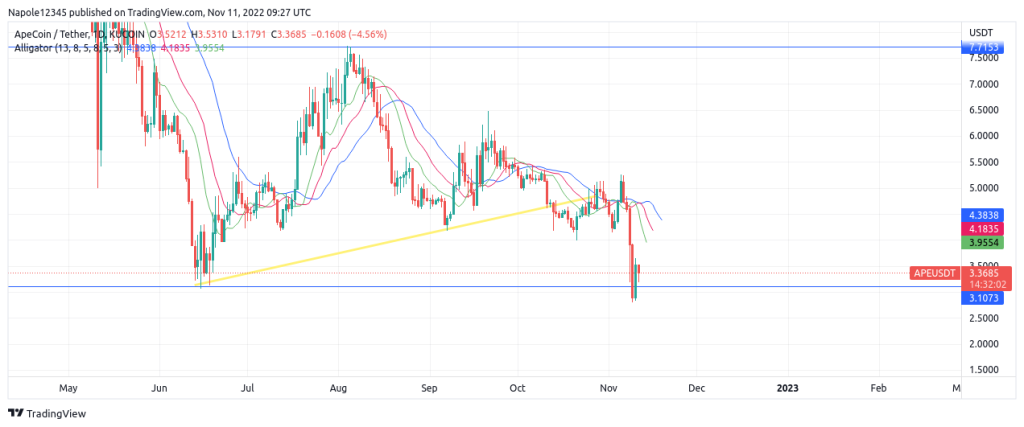 For the long term, a drop below the $2 price level is also a high probability outcome, especially at a time when the entire crypto market is in a bearish trend. However, a trade above the $4 price level will invalidate my bearish analysis.