Cardano (ADA) price is going through a meltdown today. It is trading at $0.27, which is 23% below the weekend's high of $0.3554. Other altcoins like Ethereum, Ripple, Stellar, and Bitcoin Cash are also falling today while the total market cap of cryptocurrencies has fallen to below $1 trillion. At the same time, the crypto fear and greed index is still in the extreme greed zone, as shown below.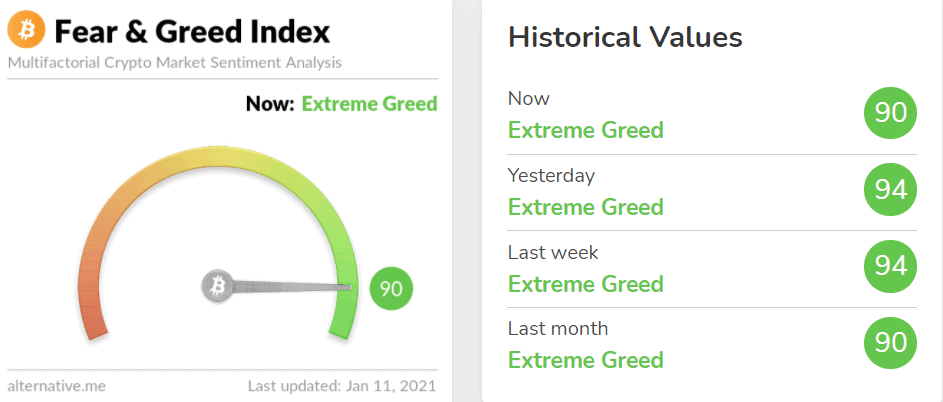 What's happening: Cryptocurrencies had an excellent weekend, with most of them reaching their all-time highs. This happened mostly because of the rising demand for the digital assets.
For example, in a recent disclosure, Morgan Stanley said that it had increased its stake in MicroStrategy to 10%. This is an indirect bet in BTC since the company is now basically a crypto holding company. For one, its market cap has soared to more than $4 billion after it announced its BTC purchases.
Also, the options market shows that some traders are pricing in a $300k Bitcoin price. Therefore, Cardano price rose in part because of the strength of the BTC.
Today, ADA price is falling because of the overall weakness in global assets like stocks and commodities. It is also falling because of the overall strength of the dollar and the fact that many traders are now taking profit. That's because Cardano price has already soared by more than 200% since September 2018 and by 67% this year alone.
Cardano price prediction
On the daily chart, we see that Cardano price has been moving sideways in the past few days. It has found a support at $0.2548 and resistance at the $0.3460 level. Also, the RSI has moved from the extreme overbought level of 86 to the current 58 while the two lines of the MACD are closing-in on a bearish crossover. However, ADA also seems to be forming a bullish flag pattern. 
Therefore, in the near term, the outlook is neutral. If it manages to move below $0.2550, it will mean that bears have prevailed, which will see it drop further. However, if it moves above the ATH of $0.3460, it will mean that bulls have won.
Don't miss a beat! Follow us on Telegram and Twitter.
ADA price forecast
More content