Asset management companies had a tough performance in 2022 as stocks and bonds underperformed. Well-known brands in the private equity industry like Carlyle, KKR, and Blackrock sunk by over 30% during the year. In the UK, Abrdn share price plunged too much that it was ejected from the prestigious FTSE 100 index before it returned in December.
Abrdn short squeeze underway
Abrdn stock had a tough performance for the most part of 2022. That year was characterized by falling assets under management (AUM), which declined from over 542 billion pounds in 2021 to about 508 billion pounds in the past quarter. A decline in AUM hurts a company like Abrdn because it reduces the amount of fees it makes.
Further, the rising costs in the UK triggered a sharp decline in revenue and profitability. In the most recent half-year results, the company said that its adjusted operating profit crashed to £115 million as its fee revenue rose by 8%. Its IFRS loss before tax loss was a whopping £320 million. As as result, the company stopped paying dividends. Additionally, investors criticized the company's buyout of Interactive Investor.
The recent rebound of the Abrdn stock price assumes that the company's business will do well this year as equities jump. As I noted on Monday, the FTSE 500 and FTSE 100 indices are hovering near their record highs. Such performance is a bullish factor for Abrdn because it will likely lead to more inflows this year.
Another catalyst boosting ABDN shares is the unwinding of short sales that existed in 2022. A closer look at data compiled by London Stock Exchange (LSE) shows that some of the biggest short sellers have started to reduce their short positions. Ken Griffin's Citadel and Steve Cohen's Point72 have all reduced their short positions, as shown below.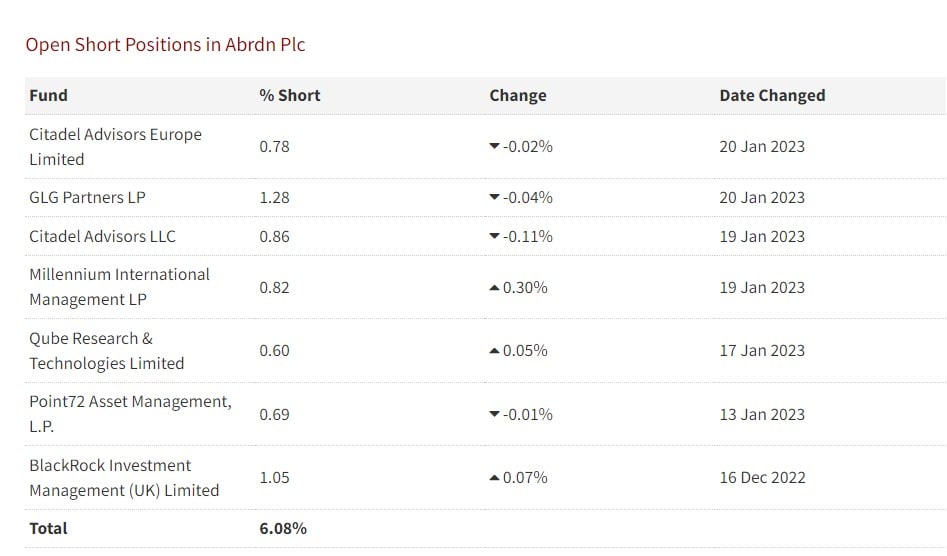 Abrdn share price forecast
The bullish trend of Abrdn stock price is advancing. Turning to the 1D chart, the stock has hit an important resistance level since this price was its September 2020 low. In its uptrend, the shares have remained comfortably above 178.90p (August 15 high). It is also being supported by the 50-day volume-weighted moving average (VWMA), which is a positive thing in trend-following analysis.
The shares have found resistance at the 38.2% Fibonacci Retracement level and has moved above the upper side of the falling Andrews Pitchfork indicator. Another thing to watch is that the stock is forming a double-top pattern whose upper side is at 216p. Therefore, my outlook for Abrdn share price is neutral until it moves above 216p. A volume-supported move above that level will mean that bulls have prevailed and see it jump to the 50% retracement point at 235p.
At the same time, a sharp nosedive below the double top's neckline at 182.2p cannot be ruled out.