Tuesday's 2.35% upside move has temporarily halted the descent of the AAVE/USDT pair, but this has not necessarily heightened bullish Aave price predictions.
The AAVE/USDT pair has been steadily declining since forming lower highs around the 278.6 price mark, with the neckline break at 235.8, completing this pattern and culminating in Monday's low just above the 183.0 support.
Despite a series of events, such as launching a regulated DeFi-based crypto lending product to 30 institutional trading entities, Aave's token has not generated sufficient upside momentum to counter the recent market correction.
Aave Price Prediction
The 205.2 price level suffered an intraday violation yesterday, followed by an attempted return move on Tuesday which has been resisted at that level. If the sellers resume their action on the strength of the rejection, 182.0 becomes the new target. If the decline continues, the cluster of lows below the 161.1 price mark forms an additional downside target.
On the flip side, a price advance is possible if the bulls break the 205.2 price mark. A follow-up on this move sends the AAVE/USDT pair towards the 224.8 resistance barrier before 251.2 and 278.6 enter the picture as potential targets to the north, which become visible if the price advances further.
AAVE/USDT: Daily Chart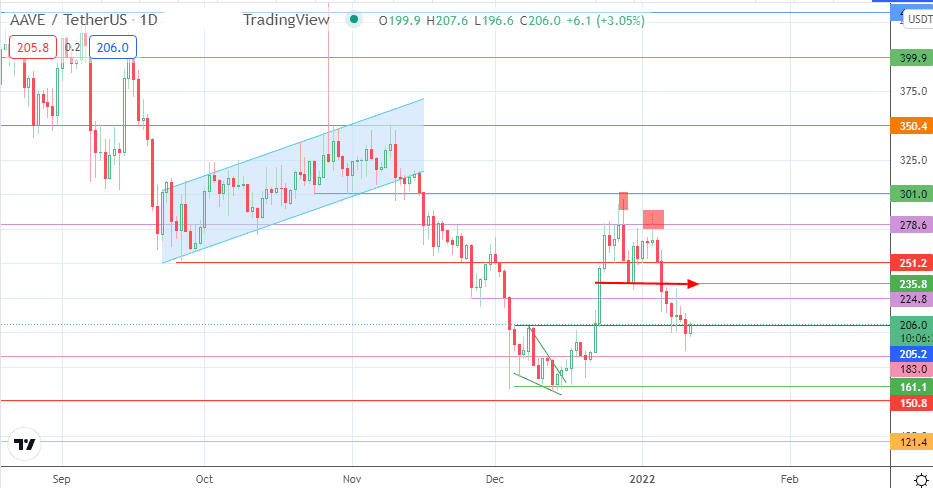 Follow Eno on Twitter.