Although the XLM price has gained 25% over the last week, Stellar lumens faces an uphill battle to join altcoin season 2. Stellar Lumens (XLM) is slightly softer this morning at $0.378 (-0.8%), a four-week gain of 24%, and +180% year-to-date. Stellar's current market cap is around $9.2 billion, ranking it the 22nd most valuable cryptocurrency behind Bitcoin cash (BCH).
Even though the combined value of altcoins surged to a record $1.54 Trillion in the last day, Stellar Lumens is way off the pace and trading at a 52% discount from the May high. Furthermore, similar to many legacy cryptos like EOS (EOS), the XLM price has failed to live up to the early hype as investors shift their attention to newer projects. Several trading themes have emerged in 2021.
At the start of the year, Bitcoin's ascent to $65,000 prompted indiscriminate buying of cryptocurrencies. However, after the crash in May, layer-2 scaling solutions and Ethereum-killers ruled the roost. In October, it was BItcoin's time to shine again as investors jumped in ahead of the ProShares Bitcoin-based ETF. More recently, the focus has shifted to Metaverse-related projects, but despite the capital rotation between different crypto asset classes, the old-economy coins (peer-2-peer payments) remain unloved. As a result, Stellar has massively underperformed many of the top-ranked assets. Nonetheless, XLM is turning higher and has recovered the critical moving averages.
Stellar Lumens Price Analysis
The daily chart shows the XLM price is above the 200-day moving average at $0.362. The 50 and 100-DMAs bring up the rear around $0.335, reinforcing the downside support. However, above the market, a descending trendline caps the price at $0.388. Horizontal resistance at September's high of $0.439 adds to the opposition.
As long as XLM holds the 200-DMA, a break of trend resistance is likely. In that event, an extension towards $0.439 should be on the cards. Furthermore, successful clearance of $0.439 sets Stellar up for a possible extension into the $0.500-$0.600 range.
However, if XLM fails to hold the 200-DMA, it should test the 50, and 100-day averages. At the same time, a steeper decline would target the September lows around $0.255.
XLM Price Chart (Daily)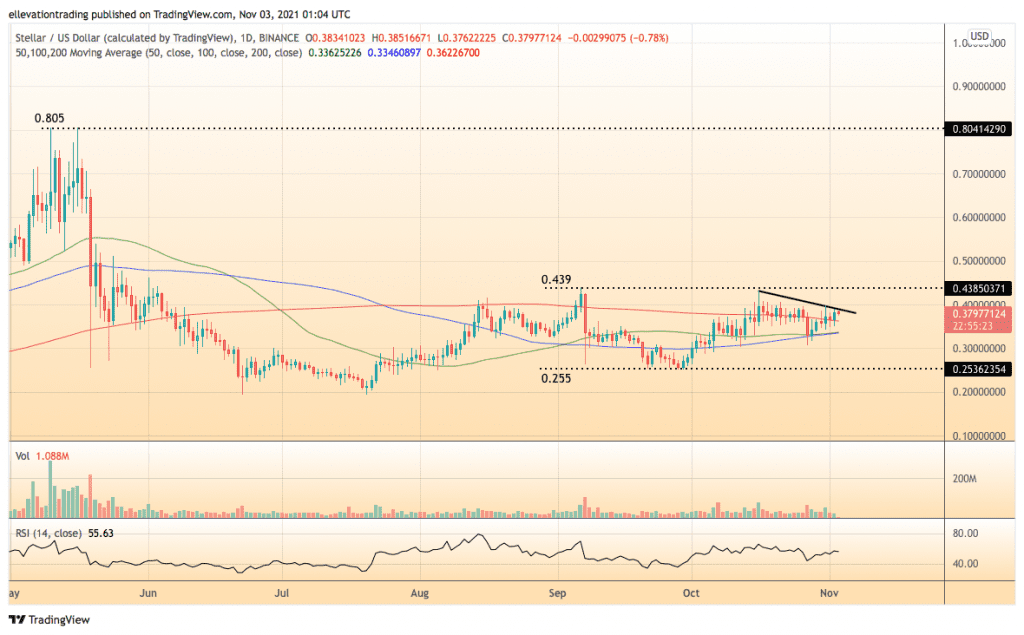 For more market insights, follow Elliott on Twitter.