DeFi platform XETA Genesis has reported high returns to its investors, with its compounded monthly returns going as high as 20%. The project attributes its performance to the efficiency of its high-frequency trading algorithms. This has seen it maintain consistent success since 2022 across different asset markets, including forex, gold ETFs, gold futures, and other precious metals.
Led by Gavin Minty and the X user known as @Shotime2kX, XETA Genesis has built its success using a community-centric approach powered by active engagements with its social media followers. So far, it has 15,000 followers on X and 2,000 members on Discord.
The XETA Genesis investment strategy
XETA Genesis employs DeFi strategies to leverage profitable opportunities in traditional markets and make them accessible to the masses. In addition, affordability is central to this strategy, with capital ranging from as low as $250 to a high of over $250,000. Importantly, technical experts are at the forefront of the project's mission, ensuring that investors' monies are managed by some of the most competent experts in financial investment. The company says that this approach has seen it generate over $44 million for investors.
Transparency is paramount in financial management, and that requirement has become more apparent in recent times, amidst multiple company bankruptcies. XETA Genesis has made it easy for users to track their investments and returns, enabling real-time monitoring on the dashboard. In addition, investors can withdraw their returns every 28 days. Furthermore, withdrawals and deposits are in USDC stablecoin to cushion users against crypto market volatility.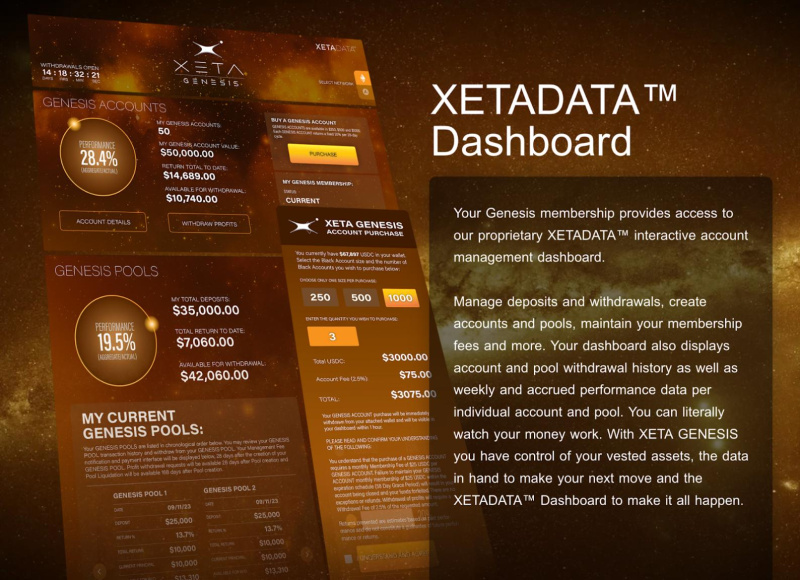 How to join
There are two ways to be part of the XETA Genesis community- signing up for a Genesis Account or a Genesis Pool. The Genesis Account is ideal for users with lower risk tolerance, while the Genesis Pool is a higher cadre plan for those with a higher risk tolerance. The two platforms are built on Avalanche and Ethereum.
Genesis Account
As mentioned above, you only need a minimum of $250 to sign up for a Genesis account. However, there are higher-tier investments under Genesis accounts, with the next ones ranging from $500 to $1,000 in USDC. In addition, the account attracts a $25 monthly maintenance fee and a $2.5 withdrawal fee.
Returns for Genesis Account can go up to 20% in each 28-day XETA Cycle. You can withdraw your funds at the end of each cycle, but the account will expire automatically after one year, after which you would need to renew your Genesis Account membership.
Genesis Pools
XETA Genesis pools are for investors with a higher risk tolerance and are part of the XETA Fund (XF). This membership option is suited for medium to large-scale investors, with investment capital starting from $10,000. In addition, account holders pay 2.5% of the principal balance as monthly management fee and withdrawal fees. Yields for the XETA Genesis Pool accounts are as follows:
$10,000 – Offers up to 5% monthly returns.
$50,000 – Provides up to 10% monthly returns.
$100,000 – Yields up to 15% monthly returns.
$250,000 – Promises up to 20% monthly returns.