The wink coin price prediction depends on it holding the key support of $0.00025. A breach of this support could send the price 40% down. Similarly, a strong bounce from current levels could generate 3x returns by the end of the year. Unfortunately, the ongoing turbulence in Eastern Europe has put all cryptocurrencies in a downward spiral. Wink crypto is no different as Win price is trading already 91% below its all-time high.
What is Wink Crypto?
Initially known as TronBet, it was one of the first Dapps built on the Tron blockchain. However, it rebranded to Wink and launched its token Win via an IEO on Binance Launchpad in July 2019. 5% of the total supply was sold in this IEO with a hard cap of $6 million.
As the name suggests, TronBet was a betting Dapp that allowed its users to bet on the blockchain game. After rebranding to Wink, it became an ecosystem of different gaming Dapps. Win token became the backbone of this ecosystem entitling its holders to governance rights and staking rewards. Wink crypto also allows external Dapps to be built on it. The tokens of all the Dapps built on the platform can then be airdropped to Wink coin holders via the Raindrop mechanism.
JustLink Acquisition and WinkLink
JustLink launched as the first-ever oracle built on Tron Network in 2020. However, Wink acquired the oracle and rebranded it to WinkLink in April 2021. This move enabled Wink to enter the Oracle business, which has plenty of room to grow. In addition, WinkLink would make the development of external dapps much easier by feeding off-chain data to the decentralized applications. This acquisition might also play a significant role in future Wink coin price predictions.
This also serves a variety of other use cases that require the interaction of external data with blockchain. Win Token which is available as both TRC-20 and BEP-20 assets also acts as the governance token of WinkLink.
Latest Wink Coin News
At the time of writing, Wink coin is trading at $0.00026. It is around 91% down from its April 2021 all-time high of $0.00289. Dapp Radar shows that the number of daily active users has significantly decreased in the last few years. Currently, around 265 users are using the app every day which is not that impressive at all. The same number was in thousands just a year ago.

As per the latest Wink coin news, there are 808,945 holders of Wink Coin on the Tron blockchain. This doesn't include the holders keeping their tokens on centralized exchanges like Binance, HitBTC, and Houbi Global. There is currently $529,000 locked on the platform, equivalent to 8.7 million Trx tokens. Win coin is currently sitting at the market cap of $255 million. This makes it a top 250 cryptocurrency by market cap.
Wink Coin Price Prediction 2022
A Wink coin price chart technical analysis shows that the cryptocurrency is facing intense sell pressure. There seems to be strong support at $0.00025 level as the price has bounced off this level multiple times. The fact is that Win token is still not out of hot waters as the price is still battling the support. The previous bounce was unsuccessful as the price faced rejection at $0.00032 level.
For a bullish Wink coin price prediction 2022, the price must hold the key support of $0.00025. Any breach of this support could put the price in a much longer bearish accumulation taking it another 40% down. However, if the price reclaims $0.00040 level in short-term then target of $0.00078 appears to be quite achievable in 2022. This is in alignment with the 0.618-0.65 Fib retracement level from November highs ($0.00082) to the recent lows ($0.0002426).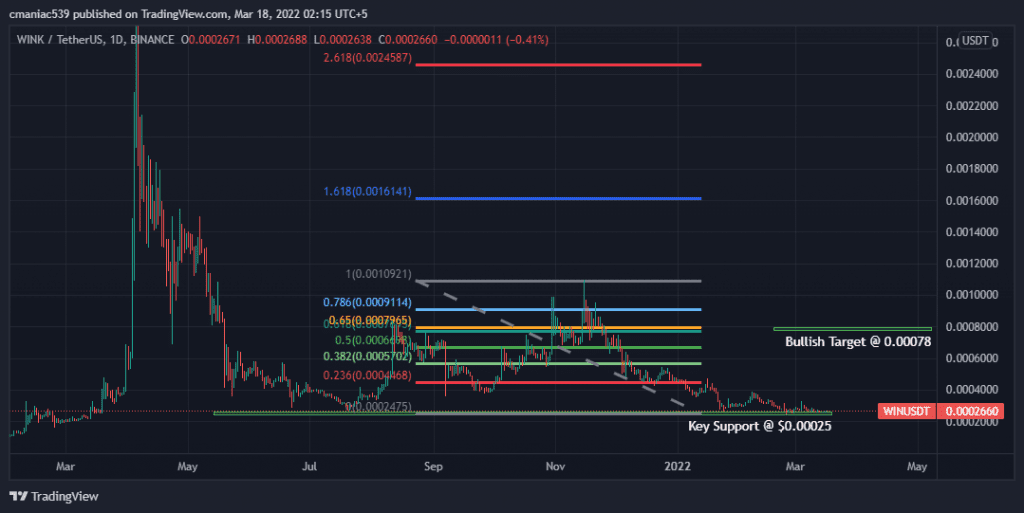 Just like any global asset, the macro-economic situation also affects the prices of cryptocurrencies. This effect became evident in 2022 when the FED announced rate hikes. The traditional and equity markets are still pricing in the much-anticipated rate hikes without any signs of a reversal.
Wink Coin Price Prediction 2025
The price of any asset 3 years from now is anybody's guess. Still, we can take a shot at Wink Coin price prediction 2025 by considering certain bullish and bearish scenarios. It is important to note here that one of the biggest reasons for Wink's popularity is its low price. Most of the people buy Wink hoping to make a 1000x when it goes to $1. If you are one of them then we're sorry to shatter your dreams as Wink might never reach $1.
The biggest hindrance in Wink hitting $1 is its massive circulation supply of 999 billion. A price of $1 would put it at a market cap of close to $1 Trillion. This seems to be nearly impossible even in the distant future and the current market cap of the whole crypto market is less than $2 Trillion.
Even a price of $0.1 seems to be highly unlikely unless Wink becomes a top 5 cryptocurrency in next few years. However, $0.01 seems to be a possible Wink coin price prediction for 2025. This is also the 3.618 Fib retracement level from $0.00078 ATH to the recent low of $0.00024. Even this price target must be taken with a pinch of salt as even a market cap of $10 billion is no joke. For this to happen, WinkLink must become a top oracle and Wink gaming platform must onboard millions of new users.
Is Wink a Good Coin?
Crypto is one of the riskiest asset classes in the world. Investment in projects like Wink crypto is even riskier because there are no adoption stats to back. Such projects tend to be very volatile and one must only put a fraction of their portfolio in them. Nevertheless, since Wink is already 91% below its all-time high so a short-term bullish move might be on the cards. Although such a move might give traders a decent 2-3x in medium-term, still such trade must have a tight loss of around $0.00025.