On Thursday, the Turkish Lira weakened against the US Dollar after the Central Bank of the Republic of Turkey (CBRT) surprisingly cut the interest rate from 19.00% to 18.00%. The USD/TRY leapt on the news and is now testing the 8.8000 all-time high.
The dovish decision by the CBRT caught the markets by surprise, as the consensus had been for the CBRT to leave the 1-week repo rate unchanged.
Given yesterday's hawkishness by the US Federal Reserve, the stage has been set for the USD/TRY to surge to new all-time highs if new demand can push the price past today's intraday high. The USD/TRY is trading 1.17% higher as of writing at 8.74630.
USD/TRY Outlook
A break above 8.8000 takes the USD/TRY into record territory, initially targeting the 8.95736 price mark (78.6% Fibonacci extension). A subsequent advance allows 9.08339 to come into the picture, as does 9.22707 if this advance continues.
On the flip side, a decline towards 8.57488 or 8.49435 could occur as a result of profit-taking. This move will provide dip-buying opportunities. However, the dip-buying window is eliminated if the price declines below the 8.29080 support. This decline opens the door towards 8.19744 and 8.04069, in that order.
USD/TRY Daily Chart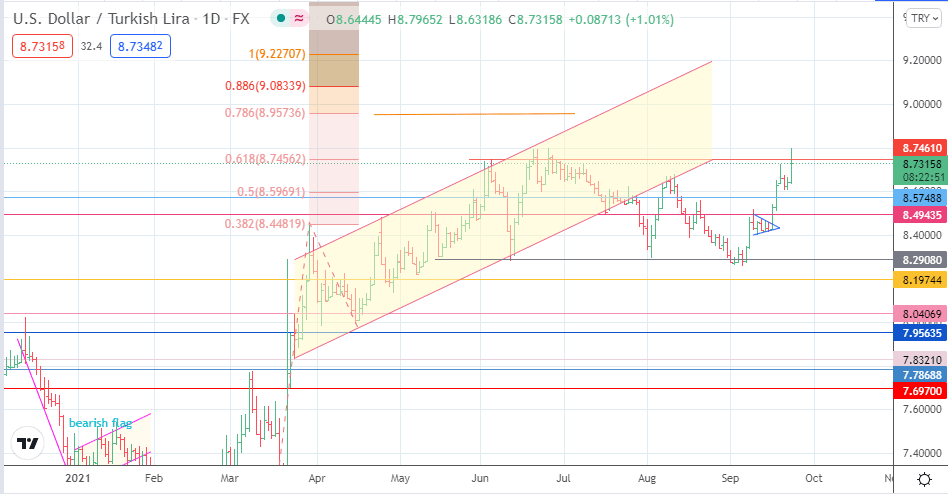 Follow Eno on Twitter.