USD/INR is having a strong bounce as the dollar is gaining strength once again. The pair had been in a tailspin since the start of July 2023. The surge in US Dollar to Indian Rupee exchange rate can be attributed to multiple fundamental and technical factors.
On Friday, Indian Rupee is sliding against US Dollar once again. At the start of its London session, USDINR was trading at 82.23 after rising by 0.12%. This marks the fourth consecutive green day for the pair, which recently tagged its May lows.
Why Is USDINR Rising?
The US Federal Reserve's FOMC meeting was scheduled for this week. The meeting ended with another 25 basis points rate hike. Even though the rate increase was in line with market expectations, it still caused a major bounce in DXY Index. The index tracks the strength of the US Dollar against a basket of other currencies.
The following DXY chart shows that the index has risen 2.3% in the last two weeks. It has also broken above the 101.3 level, which is a key technical level. The strength in the Dollar strength index has resulted in a weakness in Indian Rupee. Consequently, USD/INR is up 0.70% from its monthly lows.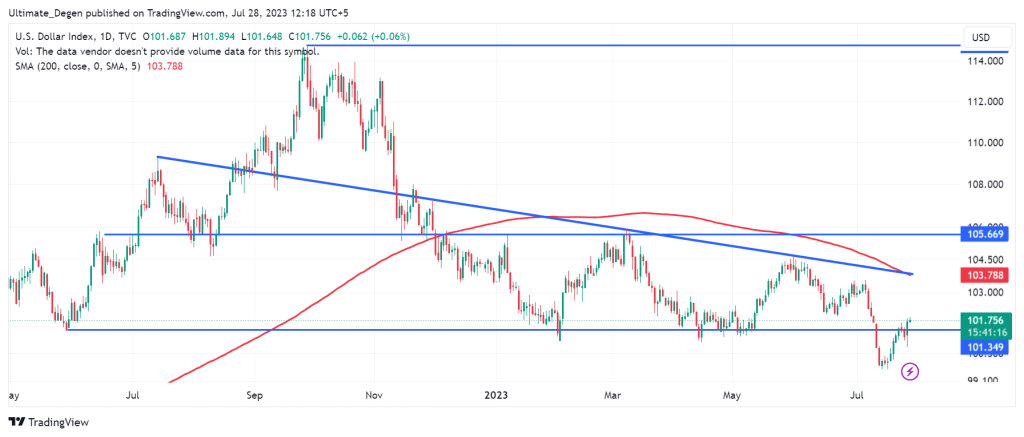 USD/INR Forecast – August 2023
As visible on the following chart, the USDINR pair is trying to break into the ascending triangle after breaking down below it a few days ago. Another resistance is the 200-day moving average which currently lies at 82.13. A reclaim of this resistance would give the pair even more strength.
USD/INR forecast is looking very positive amid constant rate hikes by the US Federal Reserve. However, the Reserve Bank of India's interventions can't be ignored. The central bank is trying to keep Indian Rupee stable in terms of Dollars to project it as a viable option for international trade.
In the meantime, I'll keep sharing the updated USDINR forecast and my personal trades on Twitter, where you are welcome to follow me.