The biggest decentralized exchange in the world, Uniswap (UNI/USD), has just gone live on Binance Smart Chain. Uniswap app V3 is currently the biggest DEX with a 24H trading volume of 2.4 billion. The latest launch on Binance Smart Chain came as a result of a community vote that took place last month.
The governance proposal for the launch of Uniswap V3 on BSC was submitted by 0x Plasma Labs. The proposal was passed by getting the majority votes of 55 million coins in its favour. According to the proposal initiator 0x Plasma, Uniswap can capture half of Pancakeswap's current market share.
Uniswap V3 Goes Live On BSC
The first version of the Uniswap app was launched on Ethereum back in 2018. However, the exchange has come a long way since then. Uniswap V2 also deployed on the Ethereum blockchain in 2020, which took the DeFi hype to a whole new level.
With BNB Chain's thriving and dedicated community, scalability, and accessibility, it is a launchpad for all things web3, where protocols looking to reach larger audiences can grow

Alvin Kan – Director Growth BSC
Uniswap V3 is the latest version of the decentralized application that went live last year. Since then, it has become the most widely used version of the DEX due to its increased capital efficiency. There is currently $3.5 billion locked in the smart contracts of Uniswap, which makes it the 5th biggest dapp on Ethereum.
Pancakeswap is the biggest dapp on Binance Smart Chain with a TVL of $2.45 billion. However, the launch of Uniswap on BSC can really give Pancakeswap a run for its money. This is because Pancakeswap is a fork of Uniswap V2. Version 3 of the DEX is far superior to the current tech of Pancakeswap.
Andreessen Horowitz And Jump Crypto Lock Horns
The bridge selection for the latest deployment came as a result of a contentious governance vote. The industry giants Jump Crypto and Andreessen Horowitz took opposite sides in this vote. As a result of this vote, Wormhole was selected as the go-to bridge for the BNB chain.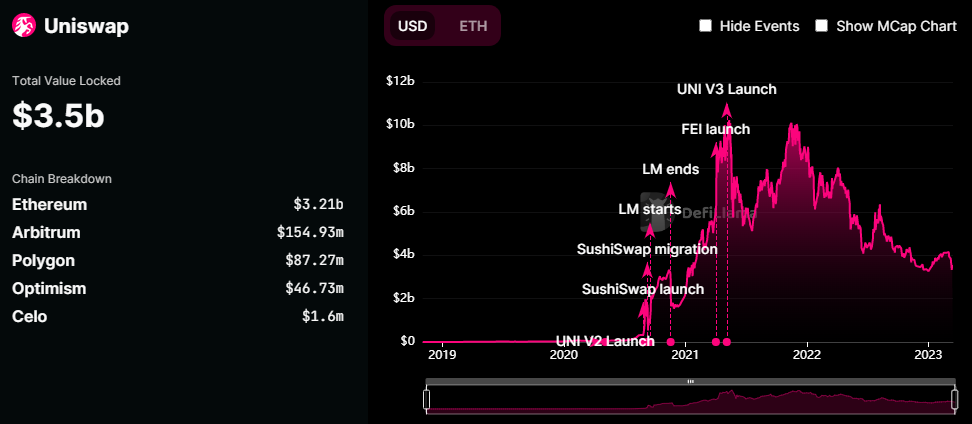 The Uniswap app is currently available on all major blockchains with EVM compatibility. Before launching on BSC, the protocol already provided non-custodial swap services on Ethereum, Polygon, Optimism, Arbitrum, and Celo. The pioneering Automated Market Maker algorithm of the top Decentralized exchange has been copied by numerous DEXs across different blockchains.