Subsocial has won the latest round of the Kusama parachain auction, and contributors will share the 16.5 million SUB tokens earmarked for distribution in early 2022.
Subsocial, a decentralized platform for social networks and marketplaces, launched a bid to KSM holders last month
to vote on its proposal in exchange for rewards on the SUB token. Subsocial is built on the Polkadot network and uses the Substrate blockchain for its decentralized file storage systems. As a result, Subsocial has interconnectivity with the Kusama and Polkadot networks, which gives Subsocial the ability to interact with other projects built on both networks.
Subsocial's bid for a Kusama parachain slot easily beat out other projects after attracting contributions that met the crowdloan cap of 100,420.69 KSM. Following this success, Subsocial's Kusama parachain will become active on 8 January 2022. It will feature two chains that will be linked by a crosschain bridge, to replace the current betanet, which is in test mode.
Upon launch, users on Subsocial will create their own socially oriented projects such as their own social media networks, with total control over how they operate, along with 100% control of data protection and usage of members' sensitive private details.
Polkadot: Daily Chart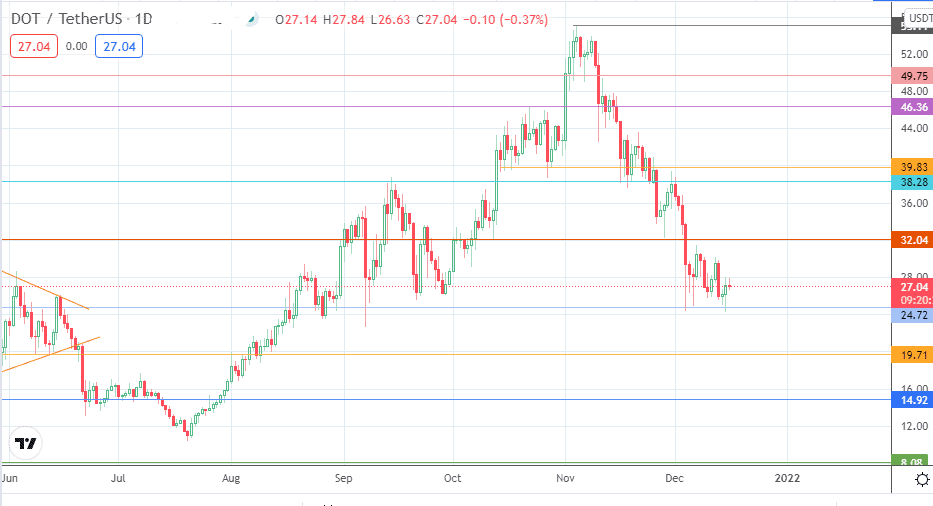 Follow Eno on Twitter.