The stock of the American cyber security firm Splunk (NASDAQ: SPLK) opened 21% higher on Thursday after Cisco agreed to buy it for $28 billion. This is the biggest deal ever by Cisco Systems as it attempts to diversify its revenue from hardware sales.
Splunk stock price opened at $144.48 yesterday, which was 21% higher than its previous close. The shares had a brief pullback after hitting $145.81 and closed at $144.43. The latest analysis of the stock reveals that it has hit a key multiyear supply zone on its chart.
Cisco Systems Offered 31% Premium On NASDAQ: SPLK
As per the details of the agreement, Cisco agreed to buy the Splunk stock for a price of $157 per share. This was 31% higher than the closing price of the stock in its last trading session before the deal. While the shares of Splunk surged on the deal, Cisco stock plummeted by 3.89%.
Cisco Systems, under its CEO Chuck Robbins, has been trying to lower its dependency on hardware sales. The company's sales are struggling to recover to their pre-pandemic levels due to the decrease in demand. The latest deal with Splunk Inc. might bring much-needed diversity into its business.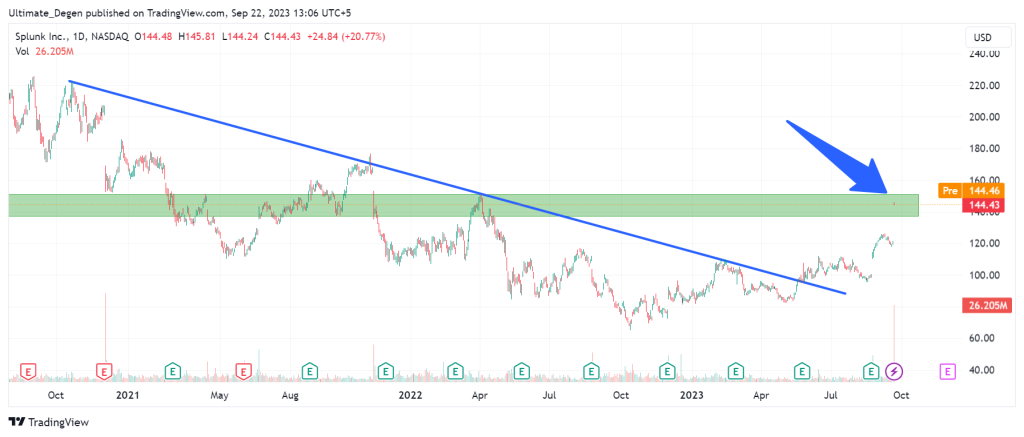 Splunk Stock Hits A Key Demand Zone
A higher timeframe technical analysis of the weekly NASDAQ: SPLK chart reveals that the $138-$150 region is a major supply zone. In the last 4 years, the price has retested this level multiple times but failed to break above. A break above this level is expected to make Splunk stock price forecast very bullish.
However, in case of a breakdown below the $138 level, bears may try to fill the major price gap that was left after Thursday's blockbuster opening. After its latest surge, the stock of the American software company now stands 64% above its yearly low.
I'll keep updating my price targets for Splunk on Twitter as the price action develops.