Spectrum Markets, a leading pan-European trading venue, has released its full 2022 business update. Spectrum Markets is a regulated pan-European trading venue which is headquartered in Frankfurt, Germany. According to the latest revelations, the securitized derivatives platform saw record growth in 2022. The order book turnover of the venue hit a record figure of €3.33 billion.
Compared to 2021, the order book turnover experienced an uptick of 147% as the number of trades reached 3.5 million. 38% of these trades took place outside the conventional hours. The update also shows that 87% of the trading activity belonged to the indices. FX pairs contributed 6.8% of securitized derivatives trading.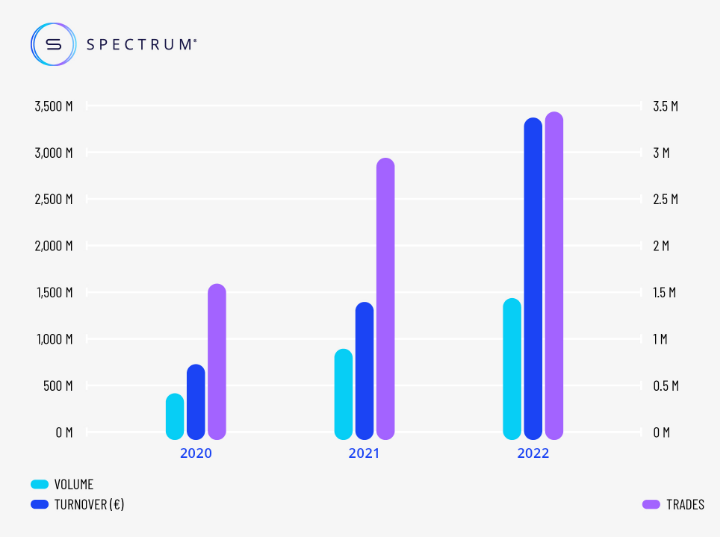 Spectrum Markets Reports Record Growth In 2022
The recent business update by Spectrum Markets covers 2022, which was is 3rd full calendar year. During this year, the pan-European venue also launched crypto derivatives which accounted for only 0.2% of its total trades. The share of equities and commodities remained at 1.1% and 5%, respectively.
Indices were the most traded derivatives on the platform, DAX40, S&P 500, and NASDAQ accounted for the most trades.
The past 12 months have been very successful for us, and we've made great progress on our growth plans, notching up another record year, which is a testament to the hard work of the whole Spectrum team, and the ongoing support of our partners and members

Nicky Maan – Spectrum Markets CEO
In 2023, the CEO wants to focus on the development of their venue by enhancing and extending the connectivity options. The firm also plans to explore more product opportunities in its effort to onboard more members.
Spectrum Announced Major Partnerships In 2022
The latest document by Spectrum Markets also revealed a new partnership with Societe Generale. The new partner already offers securitized derivatives in Spain and Nordic countries. Another key partnership was locked with the Spanish online broker, iBroker, which serves Spanish and Italian retail investors.
Other notable partnerships during last year included connectivity partnerships with SIA and Euronext Milan.