Silver (XAG/USD) price has been in a downward spiral lately. On Friday, the precious metal went down by 5.2% from its weekly high. The safe-haven asset is currently changing hands at $23.63 after a rebound due to Jobs data. The downtrend in the price can be attributed to the ever-increasing strength of the US dollar.
The DXY, which measures the dollar's strength against global currencies, is on the rise as the FOMC increased the rates by 25bps in July. However, the index had a pullback on Friday due to lower-than-expected job growth and now stands at $101.90. Gold price also rose on the news, and bullion changed hands at $1943 after a 0.53% gain.
XAG/USD Rises As DXY Index Corrects
On Friday, the investors held on to their horses before the US Non-Farm payroll data. However, once the report came out, the DXY index tanked as the US job growth fell below expectations. This caused a bounce in Silver price which was trading at its lowest level of the week.
In other news, Fitch's credit rating agency downgraded the US's rating from AAA to AA+. This caught the investors off guard. Despite the news signaling the dollar's weakness, the currency remained strong until the Non-Farm payroll report came out.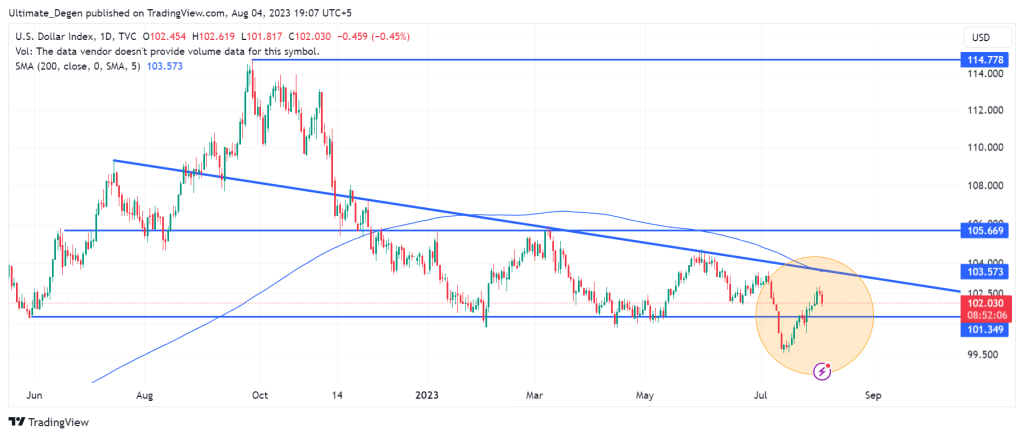 Silver Price Prediction August 2023
The following Silver (XAG/USD) price chart shows the price hovering above the 0.618 retracement level of $23.34. I expect a bounce from this level. However, if the price fails to bounce from this level, $22.14 will be the last line in the sand for many traders of the precious metal.
Another possible support level can be the 200-moving average if the bulls fail to hold the support level of $23.34. The upcoming CPI report for July 2023 will keep the Gold and Silver prices in check during the next week.
In the meantime, you are also welcome to follow me on Twitter to keep track of my commodities, stock, and crypto trades.