Pink Moon Studios, a pioneer in Web3 gaming, has announced the release of their newest game, "KMON: World of Kogaea." Kryptomon NFT holders will be the first to get their hands on this expansive 3D game. The company will hold a community preview event from 9th-11th June, 2023.
Celebrating a milestone: Pink Moon Shards
In KMON Game Saga's ever-changing virtual world, gamers can create unique virtual pets by breeding, training, and fighting with their NFT Kryptomon. Web3 blockchain-enabled game "KMON: World of Kogaea" immerses players in a fantastic 3D open-world metaverse. It integrates with the other two KMON games, "Genesis," a 2D casual training and battling game, and "Pink Moon," an augmented reality (AR) treasure-hunt game.
Pink Moon Studios has planned an exciting campaign to mark the release of the game, beginning with the "Pink Moon Shards," tokens built on the ERC-1125 platform. Players will have the chance to use the Pink Moon Shards in the game's groundbreaking on-chain crafting mechanism, the "KMON Forge," after the game is officially released.
Players can earn tokens exclusively by completing Early-Community Preview-related quests in World of Kogaea. Pink Moon shards are tradable NFTs that will be available only during the game's Early-Community Preview launch events and will provide players with great incentives.
For the first time in the KMON Game Saga, players will be able to create rare NFTs that can't be found anywhere else in the game, giving those who hold them a considerable edge. The shards will be sent to users' wallets after the game's launch based on their achievements and participation in in-game events.
Pink Moon's promising growth trajectory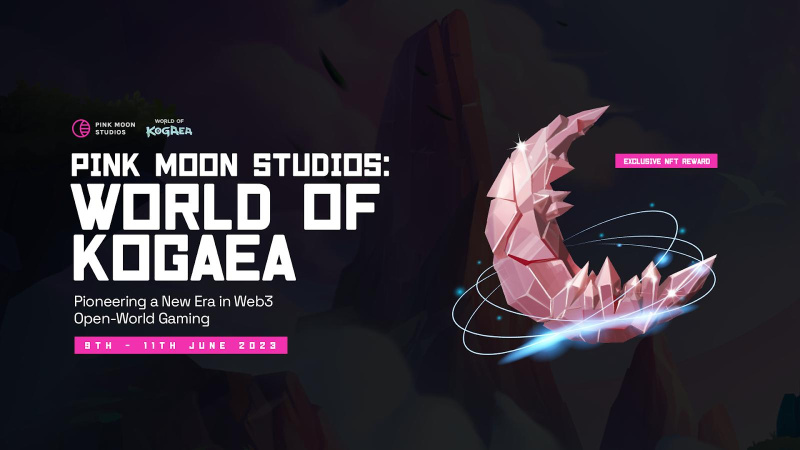 Already a huge success, Pink Moon Studios has amassed an impressive $11.4 million across two investment rounds and built a passionate fanbase of nearly 450,000 people across different social media sites. In addition, Kryptomon NFT transaction volumes alone have earned over $18M for the company in just the first seven months of its existence. These results have caught the eye of prominent partners in the industry such as Binance NFT, Crypto.com NFT, and others.
More ways to celebrate than one
While the exclusive shards are certainly enticing, Pink Moon Studios will also be launching a robust community campaign across multiple social media platforms, giving players the chance to win free Kryptomon NFTs for taking part in the release celebrations.
In addition, the developers of "KMON: World of Kogaea" will be present at a special live-streamed event hosted by Pink Moon Studios. The developers will play the game with the community, gaining first-hand experience of their creation while sharing information about the game's development and the game's special Web3 gameplay features. Dates for the events will be shared at a later time.