Terra Luna Classic price is once again making headlines amid fresh revelations against its founder, Do Kwon. The cryptocurrency is currently facing an intense downtrend, and there seems to be no light at the end of the tunnel as the project appears to be abandoned.
There are no signs of reversal despite a 99.9% drop from the all-time high. On Wednesday, LUNC crypto extended its weekly drop by another 2.71%. On a weekly timeframe, this translates into a 9.22% drop after a positive price action last week. There seems to be no significant interest from the investors in the project anymore.
Do Kwon Pushed For Fraudulent Transactions
The leaked chats of the LUNA Classic founder, Do Kwon, show that he suggested Chai founder Daniel Chin perform fraudulent transactions on the blockchain to generate fees. While such manipulation is not unheard of in the crypto space, still it reveals the mindset of the founder of one of the biggest crypto projects, which ultimately collapsed.
In another major development, the LUNC crypto community has recently passed a proposal to halt the mining of the stablecoin USTC. With 59% votes in favor of the proposal, the community of the troubled project opted to discontinue the swapping mechanism between LUNC and USTC. This could be a reason behind a bounce in Terra LUNA Classic price in September.
Terra LUNA Classic – Technical Analysis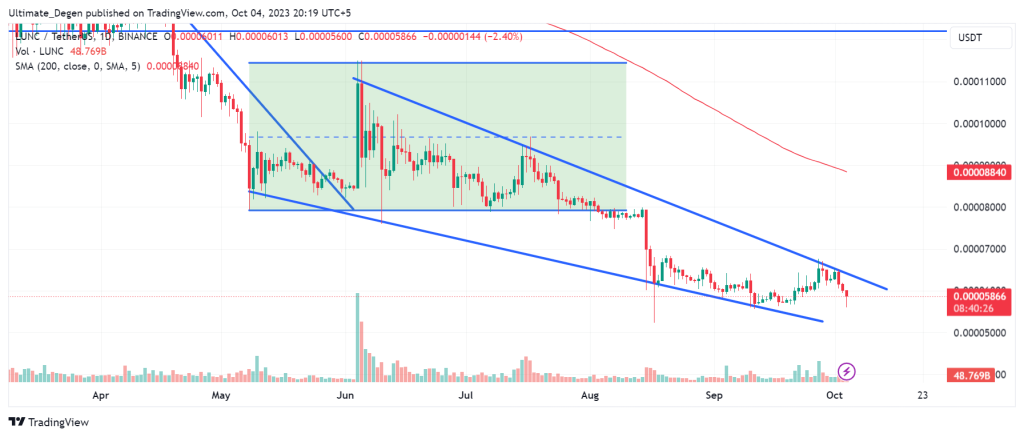 As visible on the chart above, LUNC price has formed a falling wedge pattern. While breakout from such patterns tends to be very bullish, the price is not showing any strength. In case of a breakout, the coin may see a relief rally towards $0.00011.
However, the high timeframe Terra LUNA Classic price prediction remains bearish for the coin as there is no network activity or excitement surrounding the project. At this point, LUNC has just become a memecoin without any fundamentals.