IAG (LON: IAG) share price has been in a downtrend for the past couple of weeks. The British Airways owner is set to release its earnings report on 28 July 2023. The sell-off before the earnings release suggests that the investors are not expecting very strong earnings.
Due to the ongoing oil rally, the FTSE 100 index is showing some good strength. The benchmark index is currently 6.35% up from its monthly lows. However, the airline shares have failed to catch significant bids and are trading close to their monthly lows.
IAG Invests In Sustainable Jet Fuel
As per the most recent news, International Consoldiated Airlines has invested an undisclosed amount in Nova Pangaea. The innovative company is a direct investment of Mercia Asset Management which is a London-listed asset manager.
The downtrend in IAG share price ahead of its earnings can also be attributed to the recent pullback in Ryanair. The ultra low cost airlines lowered its traffic guidance for the rest of year. Consequently, investors are expected similar outlook for other airline stocks.
IAG Share Price Heads For Key Retest
As mentioned on the chart below, LON: IAG appears to be heading for a tretest of the 200-day moving average. The key moving average currently lies at 146.6p. This also coincides with the upward trendline which is also drawn in the chart. The shares may retest this level this week which may result in a bounce.
A breakdown below this level will make IAG share price forecast very bearish. In this event, a retest of the 122p level appears to be the most likely scenario. However, a lot depends on the upcoming earnings report which is set to be released this week.
In the meantime, you can also follow me on Twitter where I share my personal trades and real-time LON: IAG outlook.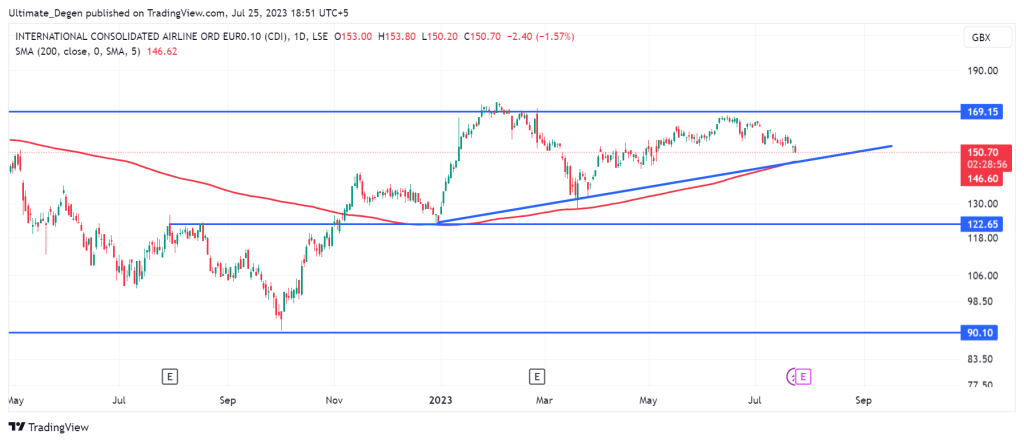 LON: IAG Chart