In response to widespread claims made on social media about a "decline in assets" on the Huobi cryptocurrency exchange, the company has issued a statement. The company has produced a response that it says is based on facts and data in an effort to calm its user base's fears.
Huobi has a global customer base in the millions, with offices in over 160 countries and regions spread across all five continents. The cryptocurrency giant confirmed on July 1 that it holds assets worth more over $3 billion in custody for its users by publishing a Merkle Tree-based proof of reserves for the month.
Claims attributed to "outdated data on third-party platform"
Some social media influencers have been spreading rumours regarding a supposed "asset decline" at Huobi since July 6. The company has issued the following statements in response:
The statements made by those influencers are founded on information about their assets that was made available by Glassnode. Huobi, on the other hand, says that expert examination shows Glassnode's data to be erroneous, with obvious gaps and omissions in addresses. The following explanations explain why:
Since a share transfer was finalised on October 8, 2022, Huobi has updated the primary cold and hot wallet addresses where assets are stored.
Huobi has 400 million USDT on TRON, 6,500 TRC20 BTC, and some ETH that is collateral for ETH validators, all of which are spread out across different chains. Glassnode, however, did not update critical data in a timely manner to account for this development.
Huobi has reached out to Glassnode for the updated information. Furthermore, Huobi says that it has voluntarily shared its primary addresses since the end of November 2022 with the public.  In addition, Huobi has given Nansen access to the necessary addresses as part of their partnership with the blockchain analytics platform.
In addition, Nansen has been updated with all address changes that have occurred as a result of the replacement of significant shareholders or system improvements. Information about Huobi's assets listed on Nansen is available to the public.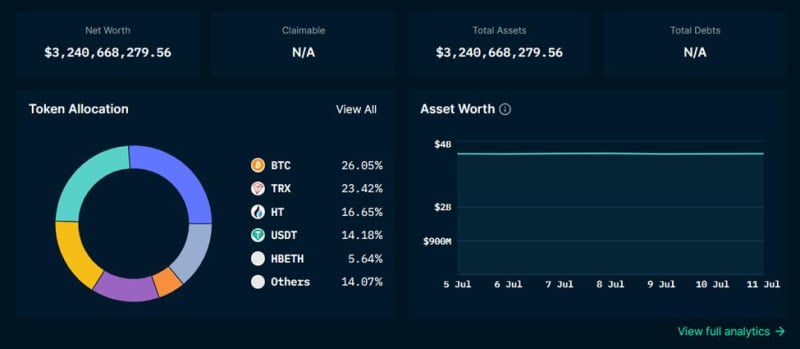 Huobi further says that there have been no changes to the platform's security or user trust that would account for this sharp drop. Instead, it says that this is the result of the company leaving certain markets. It also notes that variations in both user base and assets are to be expected.
Merkle Tree Proof of Reserves
Huobi's growth since the beginning of 2023 has been steady and upward, with no major setbacks. The company claims that its customers come first and that they place a premium on keeping their assets safe. Users of Huobi's on-chain wallets may always check the 1:1 backing of their cash against real assets thanks to the wallet's public transparency.
Every month beginning in 2023, Huobi will update and release an updated Merkle Tree-based proof of reserves. Huobi's on-chain assets currently guarantee users' assets are fully redeemable at any time. On the asset audit page of Huobi's official website, users can see Huobi's BTC, ETH, BETH, TRX, USDT, and HT reserves, reserve ratio, Huobi wallet's assets, and Huobi's user assets.
The assets applicable for Proof of Reserves are BTC, ETH, BETH, USDT, TRX, and HT.
Huobi's current reserve ratios are as follows:
USDT: 100%
BTC: 101%
ETH+BETH: 103%
HT: 103%
TRX: 103%