Gold price continued its steep sell-off as investors focused on the chances of a more hawkish Federal Reserve. It dropped to a low of $1,623, which was the lowest level since April 2020. The XAU/USD price has crashed by more than 11% this year even as inflation surged to the highest point in over 40 years.
Is gold an inflation hedge?
For a long time, gold and Bitcoin were seen as good investments because of their role as hedges against inflation. As such, the two failed the test this year as global inflation surged. Instead of doing well, BTC crashed by over 60% while gold price dropped by over 11%.
Gold continued its sell-off this week after the US published strong consumer confidence data. According to the Conference Board, confidence among consumers rose for the second straight month and reached a high of 108. Additional data showed that new home sales rose by 28% in August even as interest rates rise.
Therefore, these numbers point to a situation where the Federal Reserve will continue hiking interest rates in the coming months. Besides, the labor market is still strong while inflation is still at an elevated level.
Gold price has also slipped because of the extremely strong US dollar. The dollar index soared to the highest level in more than 20 years. There is a likelihood that this strength will continue in the coming months as the rest of the world continues to struggle.
Gold price prediction
The weekly chart shows that gold price has been in a strong bearish trend in the past few weeks. It has fallen in the past three weeks straight. Also, the metal managed to crash below the important support level at $1,676, which was the lowest level on March 21.
Gold has also crashed below all moving averages while the Awesome Oscillator has moved below the neutral level. Therefore, the XAU/USD price will likely continue falling as sellers target the key support level at $1,500, which is about 8% below the current level. The stop-loss of this trade is at 1,676.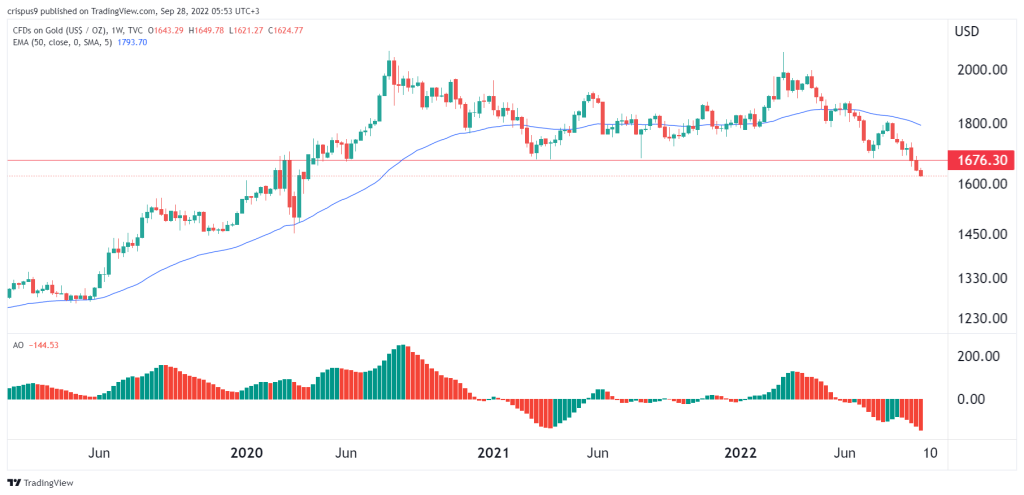 XAU/USD support and resistance
Gold's short-term outlook is still bearish, according to the highly-accurate InvestingCube's S&R indicator. The tool estimates that gold will continue falling and reach $1,600 soon. The stop-loss for this trade is at 1,653.