The FTM price left many layer-1 tokens for dust last month. However, in November, the SOL token leads the race as Fantom reverses. Fantom (FTM) is last at $2.639 (-1.3%), a 7-day loss of 20%, and whopping 15,000% year-to-date. However, FTM's market cap has dropped $2 billion to $6.7 b over the last week, ranking Fantom the 32nd most valuable cryptocurrency behind Ethereum Classic (ETC).
Fantom belongs to a group of layer-1 blockchains like Solana (SOL) and Avalanche (AVAX) that pose a potential threat to Ethereum (ETH). Fantom is gaining considerable traction in the Decentralized Finance (DeFi) arena. According to Defillama, it is currently is the 7th most-utilised DeFi blockchain with a Total Value Locked (TVL) of over $5.45 billion.
The so-called Ethereum-killers have attracted colossal interest recently as investors rush to pick the winner in the race for Ethereum's number-one spot. In October, the FTM price surged 138% to a record $3.689. However, it's been Solana's time to shine ever since. As of today, FTM has retreated almost 30% from last month's high. Whilst at the same time, Solana is printing a record price of $248.
Fantom Price Forecast
Looking at the 4-hour chart, we see that Fantom is trending lower. Notably, the former all-time high of $2.466 offers significant horizontal support. However, the FTM price is below 4-out-of the 5 displayed short-term moving averages, indicating bearish momentum.
For Fantom to regain upside traction, it must first clear the November 1st high at $2.933. In that event, an extension towards the all-time high at $3.488 is likely. In contrast, a drop below $2.466 opens the door for a slide towards the $2.000 level.
Considering the bearish momentum, a test of support is the odds-on favourite. However, as we saw on the 27th of October, the price bounced sharply after testing the level. On that basis, I am cautiously bullish above $2.466. However, a close below that level invalidates the optimistic view.
FTM Price Chart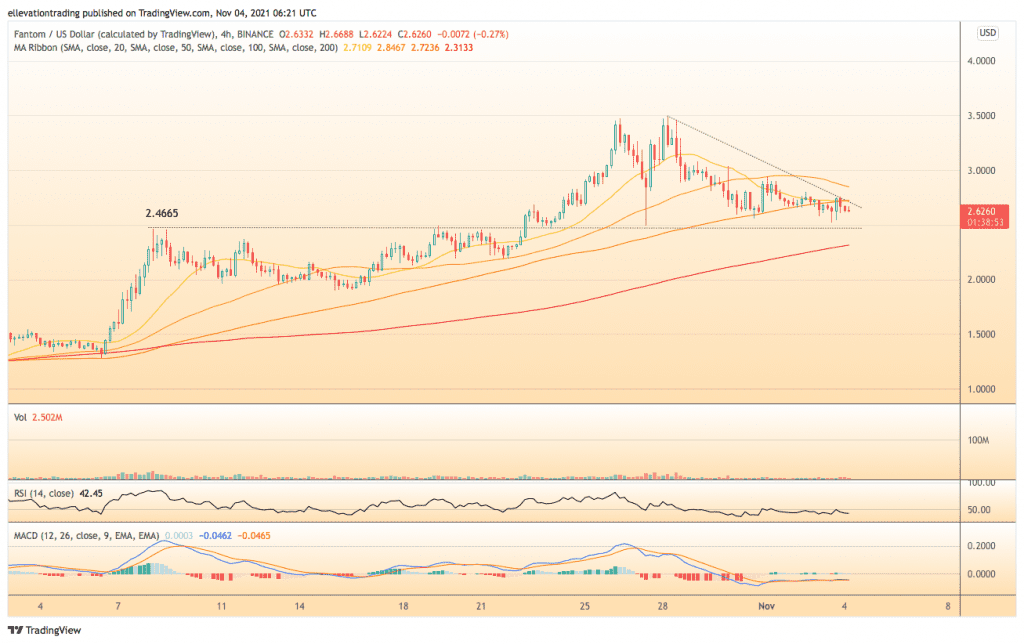 For more market insights, follow Elliott on Twitter.