With nearly $214 million in DOT, Enjin's Efinity has won Polkadot's sixth and final parachain auction for the year 2021. Contributors and investors cast their votes by staking Polkadot's native cryptocurrency, DOT, in order to help the project win the auction. NFTs will be tradeable on Efinity via the Polkadot ecosystem following the development. For now, the network can handle 700–1,000 transactions per second. That speed makes it a standout performer in the blockchain ecosystem.
About two months from now, on March 11, 2022, Enjin's Efinity, the next generation of gaming blockchain, will be available on the Polkadot parachain ecosystem. According to the developers at Enjin, their products have powered more than 1,300 campaigns. They also have gamified interactions for several blockchain companies.
The Enjin ecosystem powers everything from leading blockchain games to corporate engagement campaigns. It also enables millions of individuals worldwide to manage and store their digital assets safely.
Enjin is working on a token standard for Polkadot called Paratokens. To provide interoperability with the full Polkadot/Kusama ecosystem, the standard is compatible with parachains and smart contracts.
The primary utility token on the network will be the Efinity token (EFI). Users can vote on initiatives and referendums without staking any money.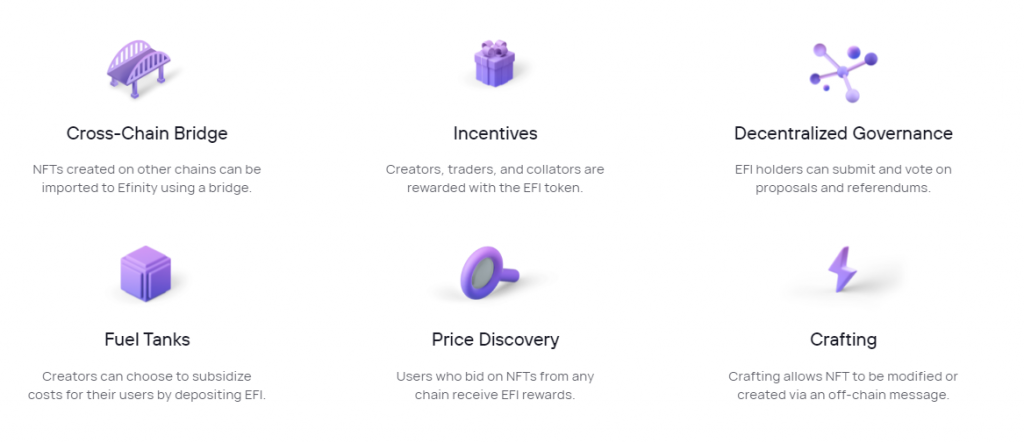 About Efinity
Efinity claims to be the "next-generation NFT marketplace," allowing buyers and sellers to generate and fill orders for whatever token they desire. Efinity's parachain will also help third-party developers build apps that use the parachain to move NFTs to other blockchains.
Because of Ethereum's network congestion, the Enjin ecosystem was never able to fully realize its goal of bringing NFTs to mainstream gaming. Efinity and Enjin both believe that NFTs need to be easily and quickly transferred between players. Following its auction win , several NFTs can be employed in a variety of games. This is in line with Enjin's long-term development ambitions.
The NFT component will particularly make the Enjin ecosystem worth considering. A cross-chain NFT infrastructure established by the blockchain gaming startup serves as an incentive for consumers to interact with NFTs by fostering ecosystem interoperability.
Given that nearly all previous Polkadot parachain slot winners have DeFi connections, Efinity is convinced that "the interconnected blockchains need an upgraded network for sharing digital assets".
About parachains
Linked to a network of other parachains, the Polkadot parachain is a layer-1 blockchain with advanced functionality. This improves the interoperability and interconnection of platforms, communities, and economies. It is also possible to conduct transactions over the full multichain network at a cheaper cost and faster speeds.
To ensure that users have complete control over their data and identity, Polkadot has developed a blockchain technology that allows for a decentralized internet of parachains. Polkadot Relay Chain validators are used to achieve consensus on the Efinity blockchain. This allows the platform to operate independently in terms of its economic framework and data.