Even after a record summer, easyJet share price remains on a downward trajectory. The stock of the low cost carrier has broken below the major support level of 428p, which was repeatedly mentioned in my forecasts. My analysis is predicting another 18% downside for the stock if bulls fail to reclaim 428p.
On Monday, easyJet shares opened at GBX 396.6, which was higher than last week's close. However, the shares slid to 381.8p during the trading session and closed the day at 391.8p. The negative price action comes on a day when the FTSE 100 index gained 31 points.
easyJet plc is set to deliver a record pre tax profit in Q4. Nevertheless, the company's stock remains in a tailspin. The European airlines expect to report a pre tax profit of £650 million to £670 million in the fourth quarter of 2023. This will be a huge recovery for the airline which has been struggling to stand up since the start of the pandemic 3 years ago.
In the quarter ending on 30 September, the revenue per seat (RPS) experienced an uptick of 9%. The passenger growth was also encouraging at 8% on a YoY basis. Despite the improvement in the company's financials, easyJet share price has lost most of its yearly gains. If you want to invest in easyJet then the 322p level may provide a good buying opportunity.
LON: EZJ Outlook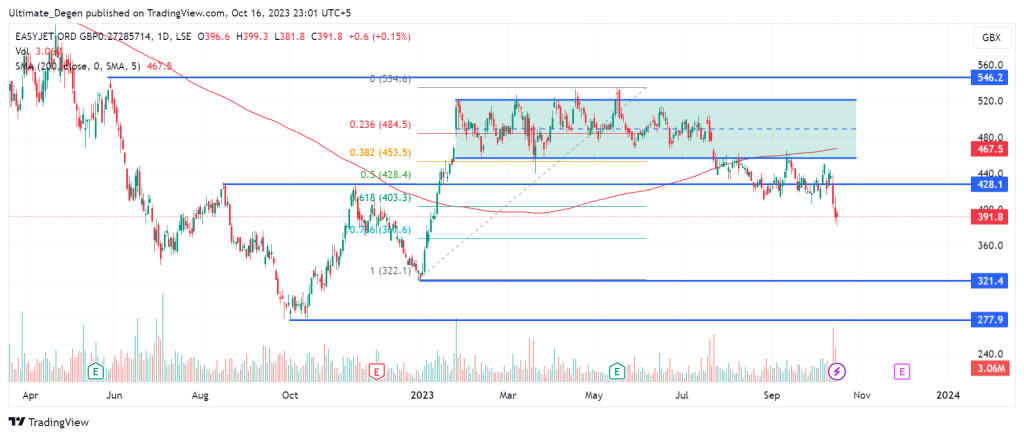 easyJet Share Price Analysis
I've performed advanced technical analysis on the daily chart of LON: EZJ. The indicators suggest that the stock price has not bottomed yet. In my last week's analysis, I predicted a retest of the 322p level in case of a breakdown below 428p. That bearish price target will remain valid until the reclaim of 428p.
Due to the recent drop below major support, the easyJet share price forecast has flipped extremely bearish. There could be a potential 17.7% downside for the stock from its current level. The ongoing bearish price action is supported by very strong volume which shows aggressive selling.