The Crypto.com Coin is attempting to recover from last week's sudden weakness as fears of a cryptocurrency collapse subside.
On Friday, cryptocurrencies followed equities and commodities lower in thin trading conditions as markets reacted to the new Omicron covid strain. However, Crypto.com coin (CRO) surged over 13% on Saturday as calm returned to the crypto market following last week's sell-off.
The CRO token lost 15% Friday, closing the day at $0.6845, almost 35% below the all-time high set two days prior. However, buyers took advantage of the discount yesterday, bidding the price higher, and erasing most of the previous day's loss. As a result, Crypto.com coin's market value is nudging $19 billion, ranking it the 14th most-valuable crypto asset, behind terra's LUNA token.
CRO Price Action
The 4-hour chart shows that despite the heavy selling last week, the technicals appear intact. Notably, the Crypto.com coin found support at the November 19th high of $0.6200. In my opinion, as long as CRO remains above that level, it should continue to trade with a bullish bias.
Furthermore, the selling at the end of last has lowered the Relative Strength Index (RSI) into neutral territory, removing the immediate crash fears. However, robust resistance in the $0.800-$0.8300 range may limit the coins advance.
I expect the price to trade sideways between $0.6200-$0.8300 in the immediate future. However, that could easily change, depending on how Asian equity markets react when they open in the next couple of hours. The early signs point to strength, although considering the magnitude of Friday'smove, we should expect a week of volatility. Therefore, until a more precise picture emerges, traders should remain vigilant and risk-averse.
Crypto.com Coin price chart (4-hour)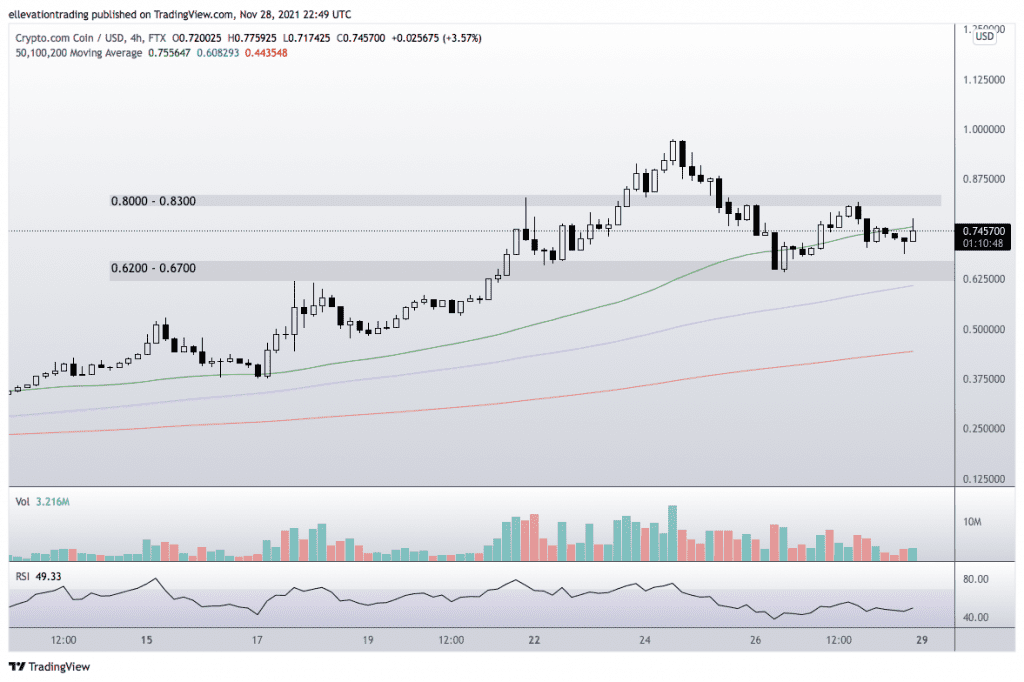 For more market insights, follow Elliott on Twitter.