Coinbase (NASDAQ: COIN) exchange may soon launch an overseas derivatives platform. According to reports, the US-based platform is considering building a new platform outside US jurisdiction. This comes at a time when the regulators are coming after crypto companies registered in the US with all guns blazing.
At the moment, Coinbase exchange is the biggest digital assets broker in the United States, with a $2 billion 24h trading volume. This also makes it the second-largest exchange in the world after Binance. The exchange currently boasts more than 32.7 million monthly users. It is a publicly listed company in the US, and Coinbase stock trades on the Nasdaq exchange.
Coinbase Tried To Register With SEC
Over the past few weeks, the US Securities and Exchange Commission has come after many crypto exchanges. The SEC chair Garry Gensler has blamed multiple platforms for offering what he referred to as 'unregistered securities'. Just last month, the leading digital assets exchange Kraken settled with the regulator for $30 million after it was sued for its staking service.
In fact, we submitted a petition with the SEC back in June, where we enumerated the specific issues that the agency would have to resolve for crypto platforms to be able to come in and register.

Faryar Shirzad -Chief Policy Officer Coinbase
Just days after bringing Kraken to its knees, SEC labelled Binance US Dollar (BUSD) an unregistered security. The US regulator also directed Paxos, the company managing BUSD, to stop issuing any more stablecoins. As per the sources familiar with the matter, SEC's recent actions have become a major concern for Coinbase exchange.
Offshore Platform Will Keep SEC At Bay
Coinbase (NASDAQ: COIN) Global currently only supports the spot markets for digital assets. The launch of a new overseas platform will not only keep the US regulators at bay but also allow it to offer derivatives like perpetual futures.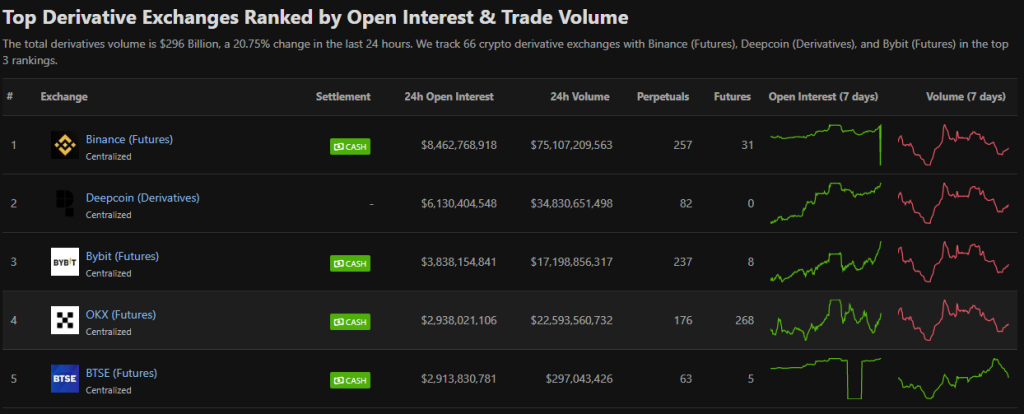 In the past few years, the global crypto derivatives trading volume has surged exponentially. Binance is currently the leader in derivatives with 24h volume exceeding $75 billion. Most of the exchanges offering derivatives are based outside of the US due to the strict regulatory framework of the country.