Cerus Markets, a multi-asset broker, has announced the launch of its Mobile Trading App Giveaway. The program has been launched in celebration of  Cerus Market's new mobile trading platform. The promotion gives traders an opportunity to take a chance to win a share of $10,000 in cash. All they have to do is be the first to access the Cerus Market Mobile Trading App.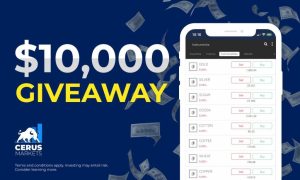 Regulated by Labuan Financial Market Authority, Cerus Markets is a crypto broker offering a myriad of exciting and rewarding ways to trade digital assets.  Not only that, but it also offers an array of other financial markets products. With its Mobile Trading App, traders will be able to access derivatives.  Derivatives are contracts between parties in the stock market whose values are tethered to underlying assets, groups of assets, or market indices/benchmarks.
Making trading easy
In Cerus Markets' mobile platform, traders will be able to speculate on the price movements of major global Stocks, Commodities, and Metals. Trading instruments on the platform are paired against fiat currencies and crypto. Furthermore, all these asset classes attract zero trading fees and traders can leverage up to 100:1. Also, as part of its strategy to make trading as accessible to as many people as possible, the broker allows trading with as little as $50 and the trading platform is accessible via a web browser or mobile device.
To register for the Giveaway, visit the cerus.app, and sign up for the waitlist. They will then download the trading app once it becomes available, from where they will stand a chance to win up to $10,000.  According to Cerus Markets, the promotion will have a total of three winners, who will be chosen at random and announced via email and social media. The overall winner will walk away with $5,000; the runners-up will get $3,000, and the second runners-up will get $2,000. You can sign up for the $10,000 Cerus Markets Cash Giveaway at cerus.app.