Bunzz, a Singapore-based web3xLLM startup, has launched "DeCipher," a groundbreaking AI-powered tool which it says will ease the process of creating Smart Contract documentation.
Decipher is an integrated platform for everyone involved in the creation of web3 products, whether they be developers looking to build new DApps on top of old contracts, traders or investors trying to make sense of the complexities of DeFi protocols, or business owners. With a single click, users can generate documents from the vast majority of Smart Contracts available on each blockchain Blockchain.
Smart Contract Clarification powered by AI
DeCipher employs advanced AI models, namely ChatGPT3.5 and 4, which were developed and optimised for analysing Smart Contracts. According to Bunzz, the accuracy of results from "Smart Contract-specialized GPT" is so exact that it has even wowed its developers. Bunzz's dedication to cutting-edge technology is on display in the form of a patent application for the innovative fine-tuning approach used by DeCipher.
Its "Machine-Readable Contract Layer" intends to build an ecosystem where different AI services can link by giving the huge quantity of contract data created during document production in a data structure that is easy for AI to interpret.
Why developers are flocking to DeCipher
In the short period since its establishment, DeCipher has established itself as a potent tool that can help traders and investors understand complex DeFi protocols, developers build new DApps on top of current contracts, and company owners of Web3 products. It works with the vast majority of blockchains, meaning that "user-friendly manuals" may be generated for the vast majority of live contracts.
Decipher's tech facilitates both DApp cloning and research, which in turn increases the potential for widespread adoption of Web3. Decipher also takes care of concerns raised over the security of assets due to vulnerabilities in the Vyper programming language. Though DeCipher is not confined to Vyper language, its ability to discover vulnerability patterns in contracts hints at the possibility of an LLM-based auditing tool.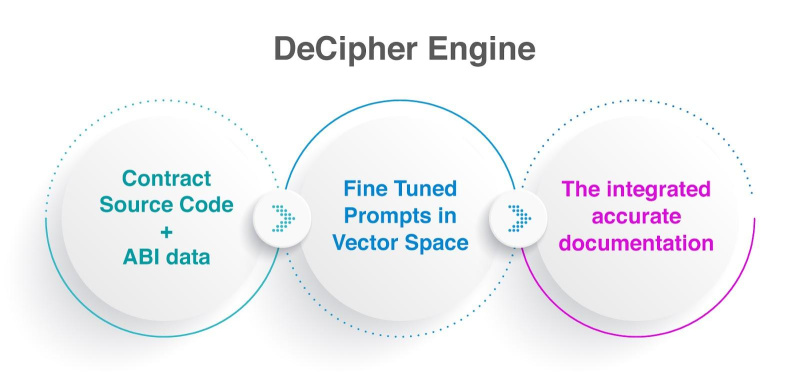 Chrome Extension to enhance Block Explorer UX
Concurrently with the release of DeCipher, Bunzz has released a Chrome extension. If this is set up, users can examine documents by clicking the generate button while still viewing the contract page in Block Explorer. The workings of this is comparable to "Code Reader" feature in Etherscan, but with some key differences:
Decipher is free. Due to its dependence on the Open AI API, the use of Code Reader requires payment.
The DeCipher Chrome Extension works with all the main Block Explorers, not just Etherscan.
The accuracy of the information provided about DeCipher.
Editing and Deployment Capabilities ay unique CLI
DeCipher's ease of use is reflected in its name: by simply pasting the contract's URL, developers can quickly and easily write documentation. If you're using a Block Explorer like Etherscan and want constant access to DeCipher, the Bunzz Chrome Extension is a great choice.
In addition, DeCipher's advantages are not confined to merely Smart Contract analysis. After contracts have been analysed, developers can use the Bunzz CLI to make changes and roll them out. In addition, it's an exhaustive solution that can be implemented on any blockchain that supports the EVM standard. These features are very valuable to developers who want to build novel apps by forking existing dApps.