Cryptocurrency trading platform Bitrue has launched the Bitrue Yield Farming platform. Beginning on January 10, 2022, it will provide yield farming solutions to its users. Bitrue Coin (BTR), the native currency for Bitrue, provides a passive source of income for users who stake their cryptocurrencies.
The Bitrue's decision confirms BTR as the world's first yield token. This means that BTR is now a token that is purely focused on enhancing returns on crypto-related investments.
How will users benefit from Bitrue Yield Farming hub?
Consumers can choose a suitable investment plan at the Bitrue yield farming hub from a wide choice of investment options. Each will have a different lockup duration, yield, and format.
As with DeFi pools, the new hub allows users to mine for tokens. One can access more than 20 pools with APRs of at least 150 percent through the Bitrue platform. However, potential gains from the pools could be as high as 200%.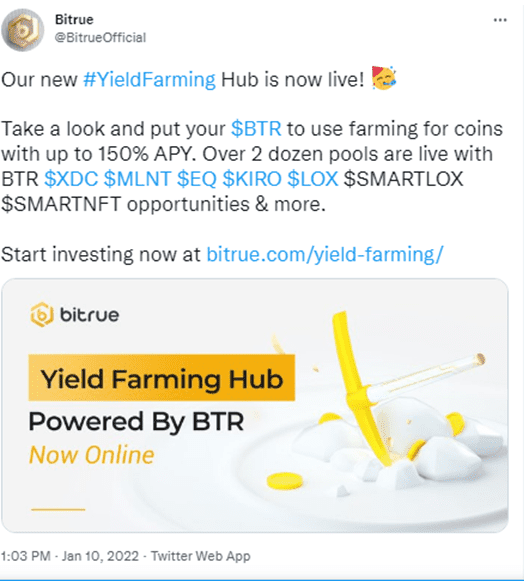 The yield farming center will broaden the options available to Bitrue users. In specific, it will mitigate the financial constraints imposed by DeFi protocols. Additionally, it will eliminate the short-term risk of capital loss. Notably, the risks associated with DeFi yield farming outweigh the benefits.
Customer Adam O'Neill, Chief Marketing Officer at Bitrue, believes that consumers may now make better decisions to optimize their earnings while becoming more flexible and successful. He stated that," By offering such a wide range of investment options with varying lockup periods, returns, and formats, we give our users the freedom to choose an investment strategy that works best for them."
The yield farming hub will be a welcome addition to Bitrue's cryptocurrency offerings. Users will use of it through the use of Power Piggy, the BTR Vote, and BTR Lockups. Bitrue Coin BTR, Bitrue's native platform currency, will power the pools.
About Bitrue
Bitrue, a renowned cryptocurrency exchange, has been around since in 2018. Over the years, it has become known for its creative product offerings. It is a crypto exchange with many services, including trading, financing, and investing. This site was the first to introduce products like Power Piggy, a cryptocurrency-based investment service. In the future, Bitrue aspires to leverage blockchain technology to make financial transactions available to everyone, everywhere.