After the initial hype, BIGTIME price is facing strong selling pressure. The price of the gaming cryptocurrency plummeted 22.7% on Wednesday as the holder rushed to take profits. If you are holding the native asset of the Big Time ecosystem, then here are a few things to know before selling the coin.
As the name suggests, the BIGTIME token can be obtained by participating in the in-game economy of MMORPG game Big Time. In this way, the cryptocurrency acts as a backbone of the whole economic model, which incentivizes the players.
Play-to-earn games became popular in 2021 when the Axie Infinity game attracted millions of users from across the globe. However, since then, most of the economic models have been flawed and the users who invested in such games have had to take heavy losses. Other major names besides Axie Infinity included Thetan Arena, Splinterlands, StepN App etc.
After years of development, the BIGTIME coin was finally launched in October 2023. Although the coin surged immediately after its multiple exchange listings, the Coinbase listing proved to be its top. Since then, the price has been in a downward spiral and the altcoin is down 49.5% from its all-time high.
Big Time Coin Chart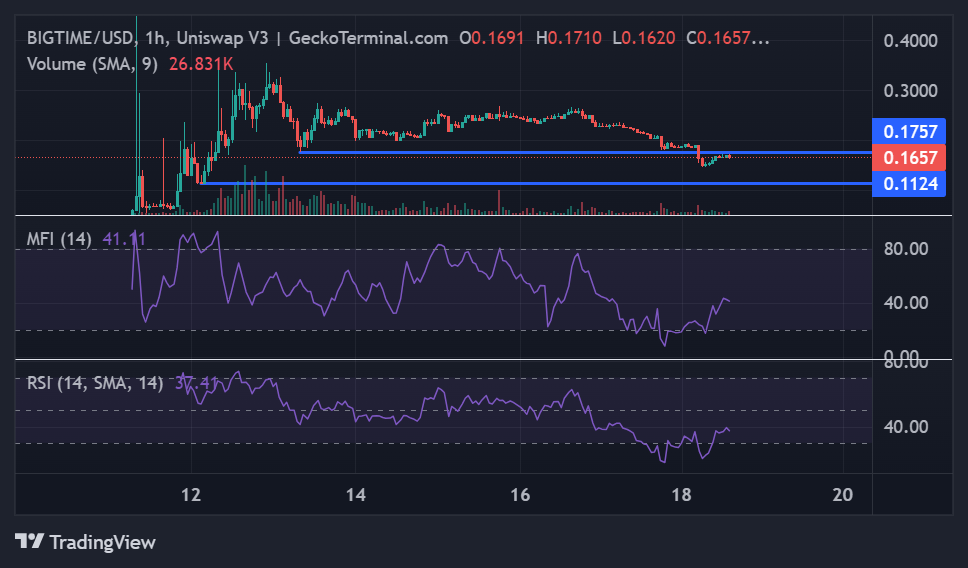 BIGTIME Price Technical Outlook
Technical analysis of the above-mentioned BIGTIME crypto chart reveals two of the most critical levels on the chart. These are the $0.175 and $0.11 levels. After a breakdown below the $0.175 support, bulls are trying to reclaim this level. Such a reclaim could be taken as a signal for a potential bearish reversal.
The strong bullish divergences on the RSI and MFI indicators are pointing toward a strong rebound from the current level which will also impact the BIGTIME price prediction. However, the confirmation of this move will be a clear break above $0.175 as mentioned before. In case of a failure to do this, the $0.11 level could become the next bearish price target.