The Basic Attention Token has roared back to life in November, surging to a five-month high of $1.4900 as FOMO mania grips the crypto market. Basic Attention Token (BAT) is treading water at $1.2570 (-1.70%) this morning as traders digest the scale of the recent move. BAT currently has a market cap of $1.88 billion, ranking it the 79th most valuable cryptocurrency behind Nexo (NEXO).
Unlike much of the market that posted substantial gains throughout October, the BAT token left it until the last minute to get going. BAT started the 29th in familiar territory, trading just above $0.600. But by the end of play, Basic Attention Token was changing hands at $0.8520.
Furthermore, the momentum carried through the next day, sending BAT soaring 45% to $1.4999. However, by the 3rd of November, the price was 40% lower before bouncing to the current level. As a result, the outlook moving forward is unclear and could potentially go either way.
BAT Price Analysis
The daily chart shows that BAT is above the key moving averages and has cleared resistance (now support) at $0.9130. However, the price is struggling at the former all-time high of $1.4528. If Basic Attention Token clears out the overhead resistance, an extension towards the $1.6970 all-time high looks probable.
However, the Relative Strength Index at 69.20 is close to 'overbought', despite the recent pullback. Furthermore, trading volume is dropping off, indicating a possible lack of follow-through.
On balance, I feel the current level is unsustainable and the path of least resistance lower in the near term. However, a buying opportunity could emerge if BAT tracks back towards the horizontal support at $0.9130. For now, I maintain a neutral outlook on the token until a better value entry point arises.
Basic Attention Token Price Chart (Daily)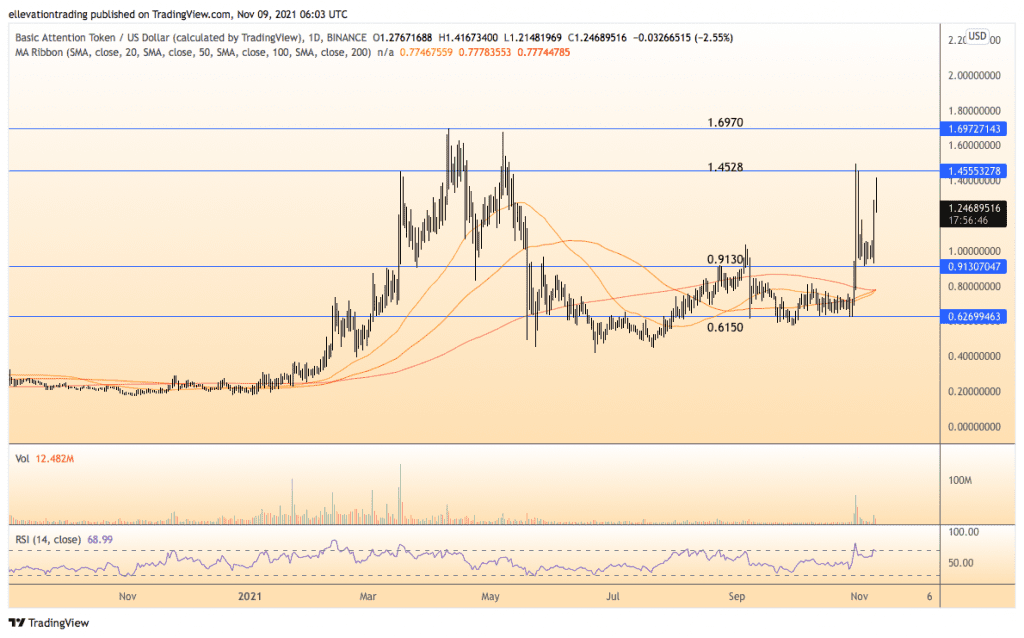 For more market insights, follow Elliott on Twitter.