The Avalanche token continues to drop and is down for the third day after the AVAX/USDT pair hit the resistance zone found, with 94.72 as its floor. The price action on the daily chart shows that the AXAV/USDT pair has continued to form sequentially lower highs, which raises the chances of bearish AVAX price predictions hitting the market.
The recent decline in the Avalanche token comes on the back of a reported vulnerability on the Multichain Cross-Chain Protocol, which features several tokens, including AVAX. The warning had been published by several security firms, including Peckshield. The findings were put out in a tweet, claiming the theft of 450 Ether tokens in the hack. 
Efforts are being made to recover the funds, as they have been traced to an address. However, the event's negative impact on the Avalanche token's price has been felt in the market.
AVAX Price Prediction
The price picture on the daily chart favours more selling if the current support zone, which has 86.19 as its ceiling, is taken out by the bears. This move would also break the ascending trendline support, forming a neckline to the emerging double top pattern. This scenario would create an opportunity for a measured move that seeks completion at 52.99. This move would need to break down the 72.92 support and the 61.27 pivot (29 September and 31 October highs) for attainment.
However, if there is a price bounce on the current support zone, then this outlook is negated. The resistance barrier, found between 94.72 and 100.35, becomes the immediate target. If this resistance zone gives way, then the bulls will have clear skies to target 115.92. 125.85 forms an additional resistance barrier.
AVAX/USDT: Daily Chart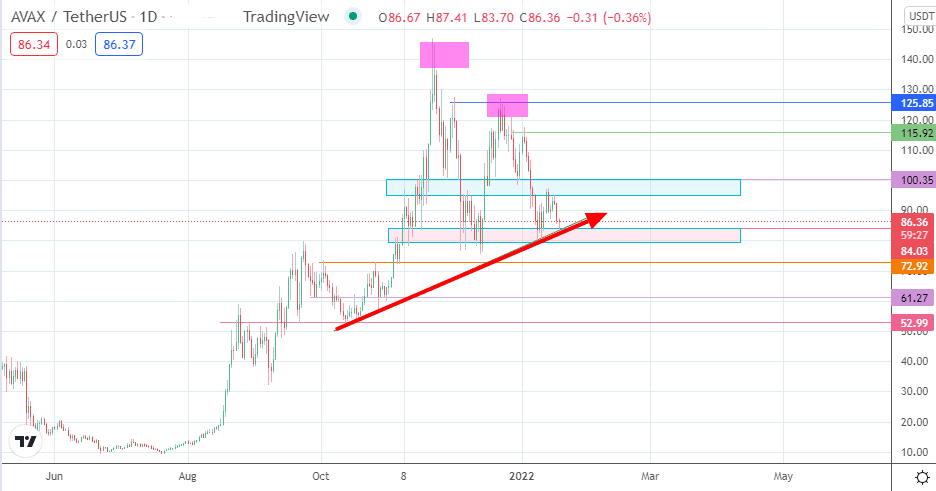 Follow Eno on Twitter.