Foreign exchange provider Alpha Group plc (LON: ALPH) has recently reported a massive increase in its underlying pre-tax profit and yearly revenue. According to the investor update shared by the institutional brokerage services provider, the 2022 revenue stood at £98.3 million. This was a 27% increase from the £77.5 revenue in 2021.
Alpha Group plc is an FCA-regulated company that has a solid client base across Europe. During last year, the firm saw a significant increase in its number of clients. During 2022, the number of clients increased from 881 to 1047. This was a 19% increase on a yearly basis.
LON: ALPH Remains Sideways
Alpha Group is a publicly listed company on the Alternative Investment Market stock exchange. AIM is a sub-unit of the London Stock Exchange that is home to smaller and riskier shares. Alpha group's stock trades with the ticker LON: ALPH and has been showing a sideways price action lately.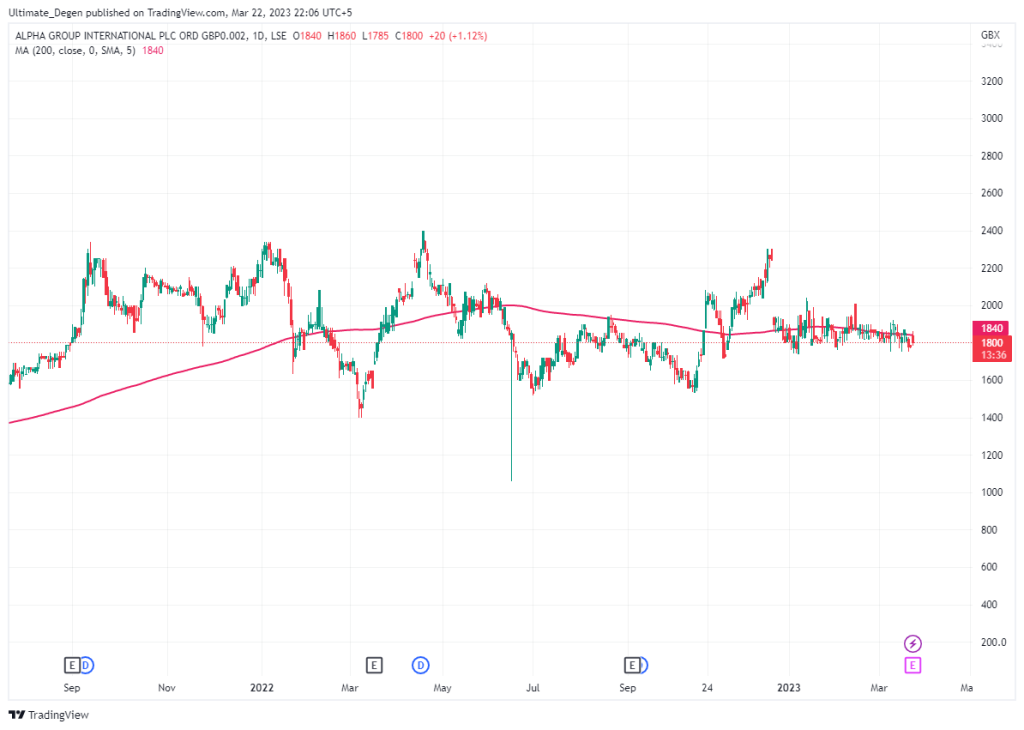 Despite a 42% boost in the firm's pre-tac underlying profit, the shares have not shown a massive spike. On Wednesday, the shares opened higher but got rejected from the 200-day moving average. Till press time, Alpha Group share price was trading at £1.80. FTSE 100 showed some positive price action today as the benchmark index gained 30 points.
Alpha Group Keeps Expanding
Alpha Group's Chief Executive officer has attributed the strong 2022 numbers to the firm's commitment to investing in its people. Throughout last year, the UK-based brokerage services provider kept increasing its headcount. Consequently, the Front Office headcount increased to 102 from 67 in the previous year.
It has also come to light recently that Alpha Group is planning to establish an office in Spain due to its growing number of Spanish clients. The CEO Morgan Tillbrook termed the increased scalability and the focus on global expansion as the major factors behind the firm's successful 2022.