Since the project was abandoned by its founder, Terra LUNA Classic price has been in a downward spiral. The constant selling pressure is diminishing the hopes of long-term investors for a miraculous recovery. Many traders have started to treat LUNC crypto as a memecoin, and rightly so.
Since the start of this year, LUNC price has been disappointing its investors. The coin is down 60% from its yearly peak, and there are no signs of any reversal. On Wednesday, the native asset of the LUNA ecosystem fell 1.79% as Bitcoin prices dropped to fresh weekly lows.
Just like Ethereum, Terra LUNA is also a smart contract platform with LUNC as its native asset. After the collapse of the Anchor Protocol and the subsequent launch of the LUNA 2.0 blockchain, the old LUNA coin has been trading with the LUNC ticker on crypto exchanges.
Most of the holders have jumped ship due to the profound negativity surrounding the legacy LUNA chain. However, some community leaders remain optimistic about the project's future and are taking initiatives by engaging the community. Due to their efforts, the community has recently voted to halt the UST minting mechanism, which was acting as a headwind for Terra LUNA Classic price.
LUNC Crypto Price Chart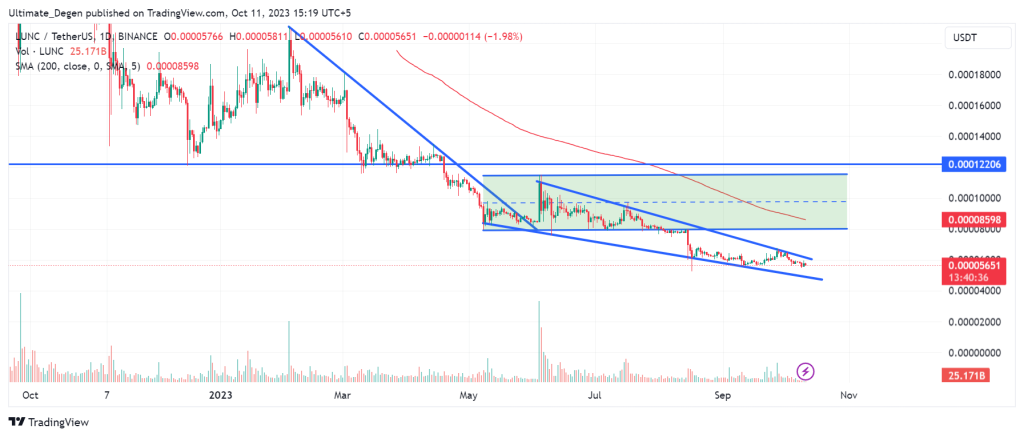 Terra LUNA Classic Price Prediction
It's incredible how my months-old analysis on LUNC to USD is still valid. The price is still hovering inside the falling wedge pattern after a breakdown below the accumulation range. A breakout may result in an upside push toward the 200 MA, which lies close to the previous range lows around $0.00008600.
My Terra LUNA Classic price prediction is not bullish, as the focus of most crypto investors has shifted to new and better projects. Even though I respect the efforts of the LUNC community to revive the project, it is highly unlikely that they'll achieve the required results.