Turkish Lira, USD/TRY has failed to gain strength even after a $5 billion deposit by Saudi Arabia. The earthquake hit Turkiye's economy is currently in turmoil due to soaring inflation and low interest rates. Many analysts are blaming the Erdogan regime's unorthodox policies for the 270% rise in USD to Turkish Lira value in the past 2 years.
Since the start of 2023, Dollar to Lira has been trading sideways. Nonetheless, analysts are expecting an increase in volatility as Erdogan, and his rivals prepare to lock horns in the May elections. The upcoming elections are being considered very critical for the USD/TRY price as a new regime would mean a major shift in policies.
Turkish Lira Weakens Amid 55% Inflation
Turkiye's current president, Recep Tayyip Erdoğan, has been a staunch proponent of low interest rates. His influence on the Central Bank of the Republic of Türkiye (CBRT) has forced the institution to keep the rates low amid a 55% inflation.
The low interest rates are a blessing in disguise for the struggling businesses of the earthquake-hit country. Nonetheless, this situation is also weakening the USD to Turkish Lira value with each passing month. The effect is also visible from the following chart of USD/TRY, which shows a massive devaluation from February 2021 onwards.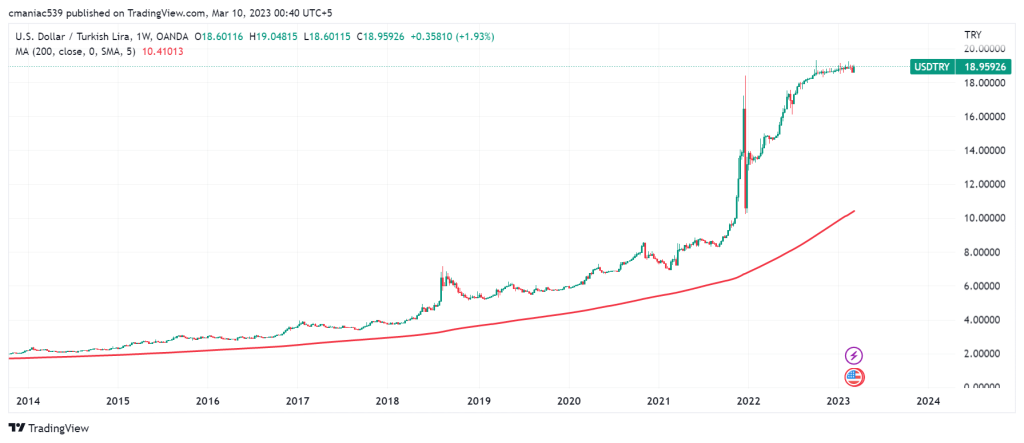 USD/TRY To Gain From Erdogan's Loss
According to the analysts at Wells Fargo & Co., Lira may get a breath of fresh air if the Turkish opposition wins the upcoming election. The new regime will most likely increase the interest rates to tame inflation which can decrease the selling pressure on the struggling currency. Erdogan's victory, however, may result in a completely opposite outcome where TRY/USD can surge above 20.
Recently, Kindom of Saudi Arabia has deposited $5 billion into CBRT to support the country's struggling economy. This will give the economy much-needed relief at a time when a large portion of its population has been recently affected by the earthquake. Therefore, the deposit won't only control the rise of the TRY/USD pair, but it will also accelerate the rehabilitation process.