One of the tokens presently exciting investors and blockchain developers alike is the Unizen token (ZCX). Unizen is an emerging force in the CeDeFi ecosystem, offering a smart exchange that provides institutional and retail investors with an AI-driven interface to trade blockchain projects.
The Unizen exchange combines centralized and decentralized exchange elements to give retail and institutional traders the best of the CeFi and DeFi worlds. It offers Binance-level liquidity but goes beyond this to provide additional features suited to the increasing institutional participation in the cryptocurrency market.
Retail trading on cryptocurrency exchanges was primarily driven by exchange-level liquidity, without any recourse to improvement on execution times, speed of data flow, compliance with regulation or competitiveness in trading fees. These features appeal to institutional-style trading, which must have these metrics in place considering the sheer volume of funds they bring into the market.
Hedge funds typically take on funds from several high net-worth entities who want their money secure, with the ability to trade large volumes at the lowest possible cost and with the slightest market impact for block trades.
The Unizen exchange accommodates the needs of institutional clients. Unizen features smart social sentiment indicators that use artificial intelligence to learn how to characterize sentiment around assets using repetitive historical data sets. The platform runs on the Binance cloud.
The Unizen token (ZCX/USDT) is seeing fresh demand following its recent correction and is up 5.6% as of writing.
Unizen Price Prediction
The candle for the Unizen price today has bounced off the lower border of the evolving falling wedge pattern and now tests the upper border. A break above this border completes the bullish breakout expected of the wedge and clears the pathway towards the 4.9352 resistance posed by the 38.2% Fibonacci retracement level. Additional barriers could come in at 5/8512 (23/6% Fibonacci retracement mark) and the 15 September high at 6.5849.
Conversely, a decline below 4/1948 (50% Fibonacci retracement level) invalidates the pattern. This move clears the pathway towards the 3.4545 price mark (24 August high/7 September low), where the 61.8% Fibonacci retracement level is found. 3.0000 and 2.4005 are additional targets to the south.
Unizen (ZCX/USDT) Chart (Daily)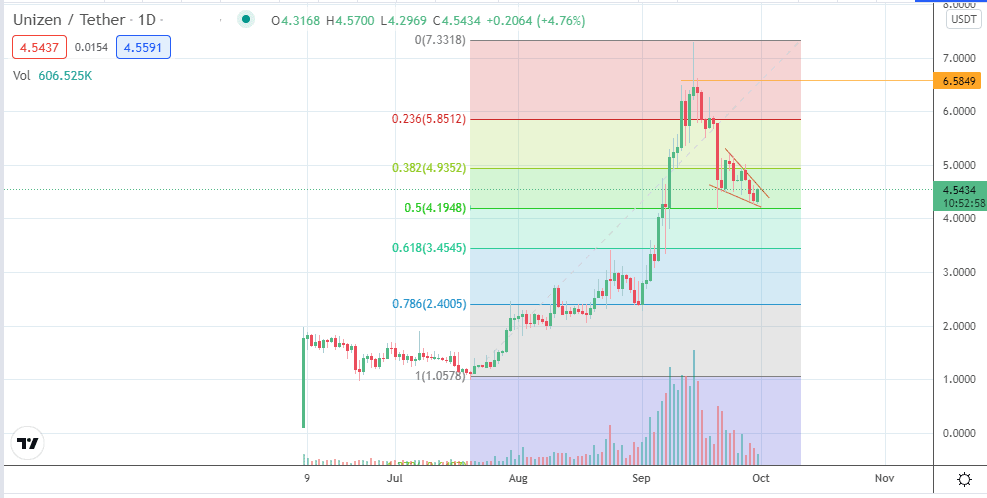 Follow Eno on Twitter.