The Tron price has crawled back in the past few days in line with the performance of other cryptocurrencies like Bitcoin and Ethereum. TRX, its native token, is trading at $0.060, which is slightly above the lowest level in January this year. Still, the coin is about 66% below the highest level in 2021.
What is Tron and what does it do?
Tron is a blockchain project that was started by Justin Sun in 2017. It describes itself as the biggest blockchain ecosystem in the world. It attributes this claim to the number of accounts in its platform and the value of stablecoins that it processes daily. According to TronScan, Tron handles more than $4 billion worth of Tether every day.
Tron is also an Ethereum-killer, meaning that developers can use its platform to build decentralized applications (Dapps).
While Justin Sun is a Chinese citizen, Tron is headquartered in Singapore, which is a friendlier country. China has recently banned most cryptocurrency projects in the country.
Tron has a market capitalization of more than $6 billion and is the 26th biggest cryptocurrency globally.
What is the Justin Sun net worth?
Justin Sun is one of the wealthiest people in the cryptocurrency industry. For example, a few years ago, he paid $4 million to have dinner with Warren Buffett. And in 2021, he was the mystery buyer of the Blue Origin flight to space.
Justin Sun is also an avid art collector. In 2021 alone, he spent more than $100 million on art collections.
It is a bit difficult to estimate Justin Sun net worth. So, let us estimate. In a previous interview, he said that he held about 6% of all Tron in circulation. Sun and the Tron Foundation owns about 30 billion TRX. Since the Tron price has declined recently, the total holding is worth approximately $1.8 billion.
Meanwhile, Sun also owns BitTorrent, a company he bought for $180 million. Today, the BTT token is worth more than $2 billion.
Therefore, in estimation, Justin Sun has a net worth of more than $500 million.
So, is Justin Sun a billionaire? Unfortunately, Justin Sun is likely not a billionaire since the Tron and BitTorrent prices have fallen.
Tron DEFI ecosystem |
Projects built in Tron
Part of the reason why the TRX price jumped sharply in 2021 was that the Tron ecosystem has been growing. For example, data compiled by DeFi Llama shows that there are now about eight apps built using Tron. In addition, these apps have a total value locked (TVL) of more than $3.9 billion, making it the 8th biggest network.
The Tron ecosystem is made up of apps like JustLend, JustCryptos, SunSwap, JustStables, and Sun.Io. JustLend has a TVL of more than $1.5 billion, while JustCryptos has a TVL of more than $1.1 billion.
Another part of the Tron ecosystem is the number of users. According to TronScan, more than 73.7 million accounts are now on the mainnet. In addition, in the final week of January, the network had more than 23.6 million new transactions.
Tron DeFi projects

What is the Tron total value locked?
The TVL is defined as the amount of assets that are being staked in a protocol. As mentioned above, DeFi Llama places the TVL of Tron at about $3.8 billion. As shown below, this price is substantially lower than its all-time high of more than $4.8 billion. This TVL is for the apps built using Tron's technology. On the other hand, Tron places the TVL at about $7.7 billion.
Tron TVL history .

Tron latest news
Unlike most cryptocurrencies, Tron rarely makes headlines. However, some of the most important news happened in 2021.
For example, in November, Justin Sun's Tron Foundation acquired SunSwap, which has now become a leading DeFi player in the ecosystem. In February, Justin Sun will make a presentation in which he will talk about the integration of SunSwap and Sun.IO.
Another important Tron news is that the developers are designing the integration mechanism for parachain in cross-chain communication. They also tested the solidity compiler v0.8.7.
Tron price history
The TRX price has had a roller-coaster in the past four years. The coin's price initially jumped to an all-time high of $0.2832 in December 2017. At the time, Tron was among the top ten of the biggest cryptocurrencies in the world.
After soaring to its all-time high, the Tron price started a slow decline that pushed it to a low of $0.007. It was a 97% crash from its all-time high. Since then, the TRX coin price has jumped by more than 640%, as shown below.
Tron coin price history chart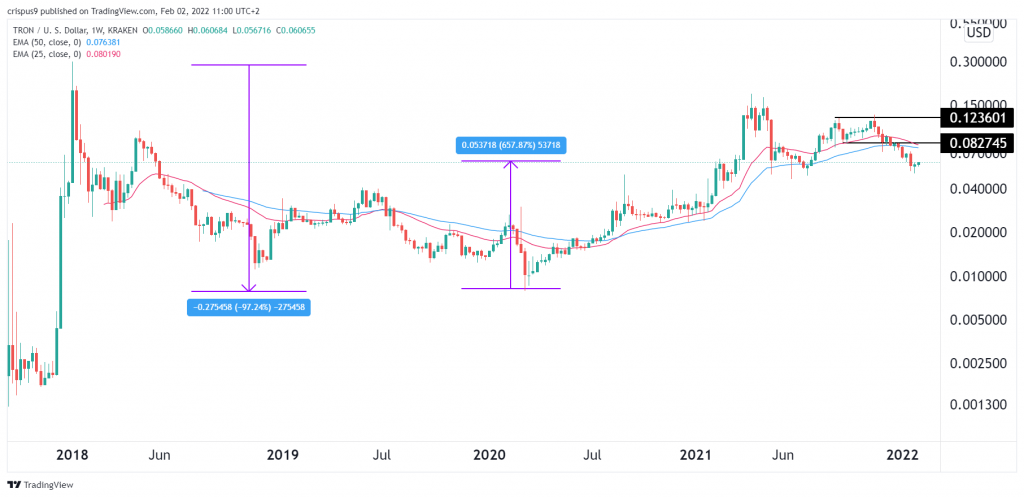 Is Tron a good investment?
People who bought Tron initially have seen remarkable growth over the years. The question is whether this growth will continue into the future.
In my experience, I have noted that the price of Tron tends to have a close correlation with that of Bitcoin. Historically, when Bitcoin price rallies, Tron prices tend to rise.
Since we expect that BTC will keep rising into the future, there is a likelihood that Tron will do good as well. 
However, Tron is facing substantial competition from other platforms like Solana, Terra, Binance Smart Chain, and even Ethereum. Therefore, I believe that there are better alternatives that will have stronger results than Tron. 
What will Tron be worth in 2022?
Tron price prediction 2022
The daily chart below shows that the TRX price has been in a deep downward trend in the past few months. Like most tokens, it has declined by more than 50% from its highest level in 2021.
Along the way, the coin has formed a descending channel that is shown in black. The current price is slightly below the upper side of the falling channel.
Notably, it remains below the 25-day and 50-day moving averages and has formed a rising wedge pattern. Therefore, I suspect that the price will keep falling in the first part of the year as the Fed tightens. This means that it could drop and retest the support at $0.04 in 2022 and then resume the bullish trend.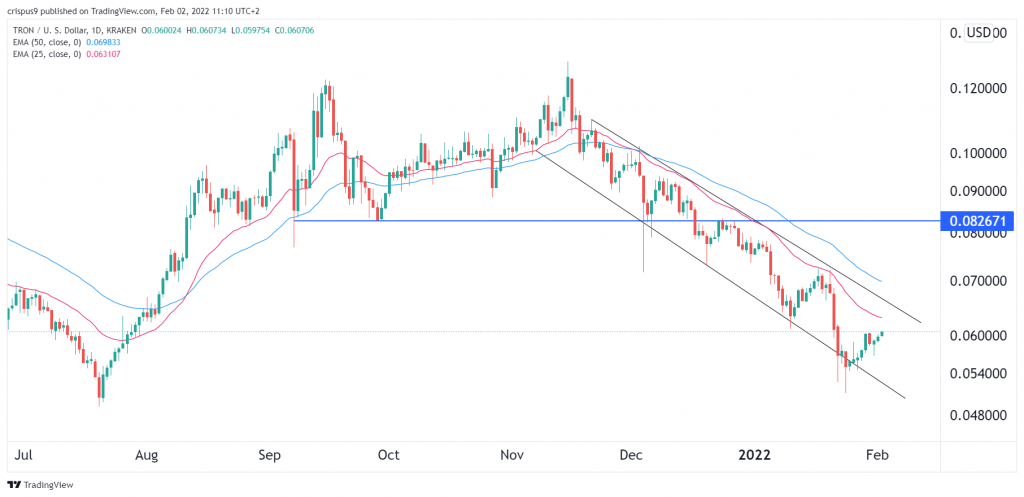 Tron price prediction 2025
Will Tron soar to $10?
It is unlikely that the Tron price will jump to $10 by 2025. Such a move would mean that Tron needs to rise by more than 16,000% by 2025. While this is a possible thing, I believe that it is highly unlikely to happen.
According to Coin Price Forecast, the TRX price will end the year at $0.185 in 2025. If this estimate is correct, it means that the coin's price will drop by about 70% by 2025.
Meanwhile, another study by Long Forecast says that the TRX price will end 2025 at $0.032, which is about 50% below the current level.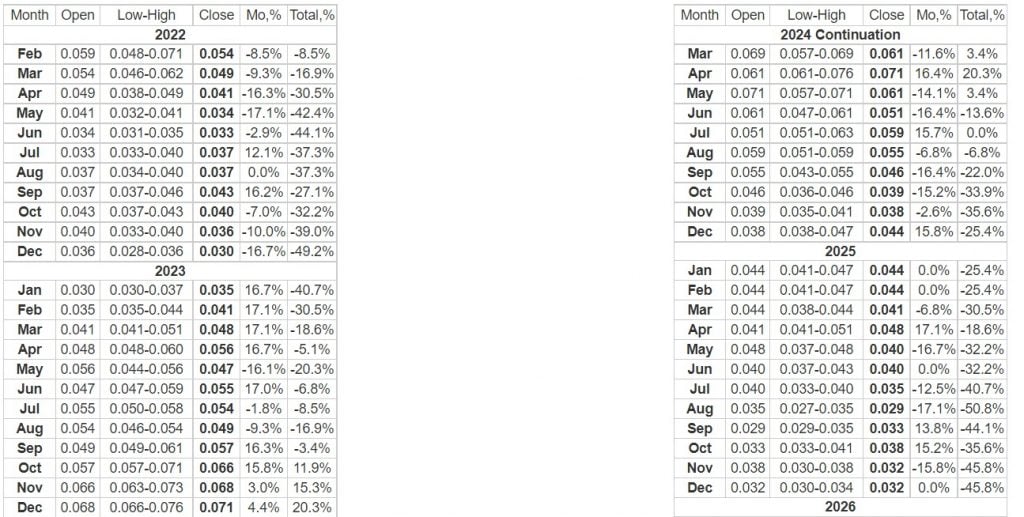 What will be the price of Tron in 2030?
According to Coin Price Forecast, the Tron price will be $0.23 in 2030. However, that price is more than 60% below the current level. Therefore, estimates are that it will be difficult for Tron to retest its all-time high in the coming decade.
What is Tron all time high
Tron jumped to an all-time high of $0.30 in December 2017. However, it struggled to retest that high during the 2021 crypto rally.
How do I invest in Tron?
The easiest way to invest in Tron is to buy at an exchange. Most exchanges like Coinbase, CEX, and Binance offer Tron.